Ricochet River: 25th Anniversary Edition (Paperback)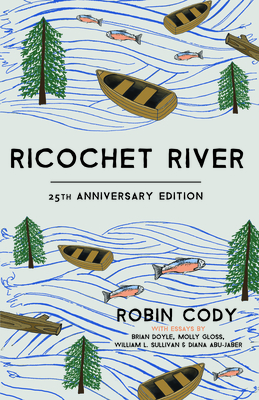 Description
---
It's 1960. In a small logging town called Calamus that's about as far in the middle of nowhere as you can get, Wade Curren, star of the high school baseball and football teams, is content living out his role of local hero, holding court in the corner booth of the town diner where his girlfriend Lorna waits tables.
Lorna, working to support her family, is plotting her escape from their small town. Fiercely independent and an avid reader of the kinds of books that aren't taught in school, Lorna wants a bigger life. She tries to show Wade that Calamus is a trap, that as an individual he should fear the town's rigid "boxes" and expectations. But Wade's box is too comfortable and she can't make him understand.
When Jesse Howl arrives from the Klamath Warm Springs Reservation, his presence shakes up the town. Jesse doesn't seem to know how an Indian "should" act. Yet even as he and Wade compete for the top spots on the baseball and football teams, they become friends. As they raft the river, fish, and listen to Wade's grandfather's stories, Wade, Jesse, and Lorna forge a lasting bond and discover exactly how much it could cost them to be themselves.
About the Author
---
Robin Cody is a writer of both fiction and nonfiction, and a winner of the Western Writers of America Silver Spur Award for short nonfiction. In 1995, he won the Oregon Book Award for Voyage of a Summer Sun, an account of his canoe trip from the headwaters of the Columbia to its mouth at the Pacific. Ricochet River is his best known and best loved book and he has worked tirelessly since its publication to ensure it reaches the audience of young readers it deserves. A teacher himself for over a decade, Robin has deep roots in schools around Portland and is excited by the opportunity to bring Ricochet River to a wider audience. He lives in Portland with his wife, Donna, and when the weather cooperates, can usually be found floating leisurely down the Columbia.