Kombucha, Kefir & Natural Sodas: A Simple Guide for Creating Your Own (Hardcover)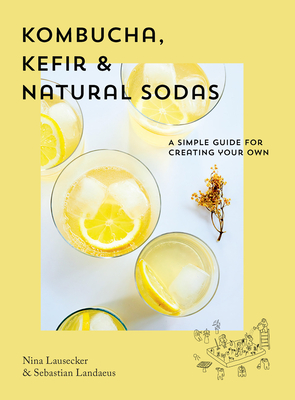 $19.95
Email or call for price
Description
---
Making thirst-quenchingly healthy kombucha, kefir, and natural sparkling sodas at home is easier than you probably think--this book breaks the process down step-by-step.

This simple and stunningly photographed book explains the basics of brewing your own kombucha, kefir, and natural soda--right from your very own home. Truly, this book couldn't arrive in your life at a better time. At this crucial moment of consumer awareness, many of us are starting to make better and more informed choices about what we eat and drink--and we're given plenty more choice than in the years gone by. The drinks-cooler section in all supermarkets and corner stores is now laden with healthier options which challenge the classic selection of commercialized, sugar-filled sodas of our youth.

Today you'll find anywhere a whole range of naturally low-sugar, fermented alternatives such as kombucha, switchel, and kefir--all healthy, gut-friendly drink options. These thirst-quenchers might seem too complicated to consider making yourself--but in fact, fermented drinks are much easier to create at home than you might think. That's the thing about fermentation... You just bottle it up and wait.

This book contains forty easy-to-create drinks that will not just save you money, but will make you feel great too! Recipes in the book include kefir, kombucha, grapefruit soda, cider, switchel, and mead. You'll be a (mocktail) mixologist in no time!
About the Author
---
Nina Lausecker & Sebastian Landaeus started a kombucha brewery a few years back in the south of France and now sell their "bubble drinks" under their Lökki brand all across France, Belgium, and Portugal.