Where's Bowie?: Search for David Bowie in Berlin, New York, Outer Space and more ... (Hardcover)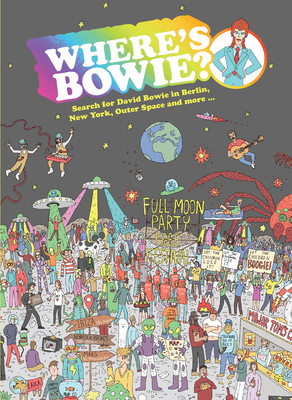 $14.95
Email or call for price
Description
---
Scour these intricately illustrated pages for our most beloved icon of pop culture, the late and great David Bowie.

This book is a reverent and interactive homage to David Bowie, with dense illustrations of the many real and imagined universes of his own making. Hidden somewhere on each of these double-page spreads, a Bowie is patiently waiting to be spotted by the well-trained eye of a fan.

As the chameleonic Bowie took on so many iconic personas across his illustrious career, each moment is celebrated chronologically in this book. You will have to find young and dapper David Jones in 1960s Brixton; look for Ziggy Stardust in spaced-out Outer Space, crawling with Martian spiders and nestled between the stars; then search for glam Bowie among the revelers at Studio 54; and ask yourself, is that the Thin White Duke outside Hansa by the Wall in late-'70s Berlin? Each page of this book is so laden with Bowie references that you might even pick up a factoid or two in your search.

With fun, detailed illustrations that explore Bowie's world--and that of his influences--Where's Bowie? is the perfect guide to the cultural icon for both adults and children. Plus, who doesn't want to raise their kid as a Bowie super-geek? No one--that's who.
About the Author
---
Kev Gahan is a nomadic British illustrator, whose freewheeling and subversive drawing style is known for its mind-boggling detail.