Swipe to Play: 99 First Date Questions to Break the Ice, Court with Confidence and Reveal Potential Chemistry (Paperback)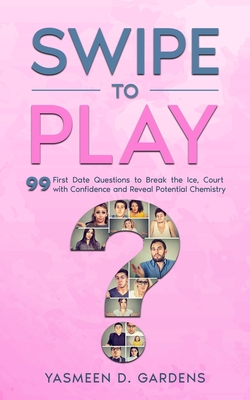 $9.99

Usually Ships in 1-5 Days
Description
---
Let's just face it: first dates are awkward.
Sorry to break it to you, but romantic meet-cutes are out the window; swipes are in, and hope is out.
Just kidding. Sort of.
And yet, here we are. You've swiped right and - PING It's a match. Congrats.
You've been talking and are now itching for a first meet. Unfortunately, as fun and exciting as the idea of a first date might seem, the actual prospect of it can be seriously daunting, especially if you've had your share of painful meetups.
I mean, who hasn't?
Let's be real: Catfishing could be an event in the dating Olympics (and I've had the misfortune of meeting some serious competitors in this discipline ).
But do we still put ourselves out there? Yes. And will you be willing to move past the possibility of a disastrous encounter with a stranger? Of course.
So you've been messaging back and forth, perhaps exchanged numbers, and have finally agreed on a time and location for a first date.
You get ready and make your way to the venue. As you enter the potential fist-date crime scene, you're hit with a solid case of jitters and a dash (okay, more like a dollop) of regret. Second-thoughts begin to cloud your mind as you are suddenly flooded with awareness of the high risk of this impending disaster.
You swallow what's left of your pride as you stand there, feeling awkward
AF
, trying to spot your stranger, praying you won't accidentally start flirting with some innocent passer-by who was just out for an evening stroll.
Nothing like a first date, uh?
That's where Swipe to Play comes in.
Asking questions is one of the best ways to get to know someone. It's a respectful approach and a foundational principle of healthy communication.
What you'll discover:
- Smooth openings: Ice breakers
- Psyche Digs: Personality types, love languages and intellectual compatibility
- Cross Examination: Fill in the blank, Lightning round, Quick fire interest quiz
- Unloading baggage: Deep diving into dating history, family and upbringing
- Sunday Roast: Revealing lovable quirks
- Flirt & Dirt: Naughty and offbeat questions
- Just Don't: Things you should never ask on a first date
- Your foolproof getaway plan
With a focus on open-ended questions for a more genuine dive into a stranger's soul, these conversation openers will relieve the pressure of first meets and create a playful premise for your (hopefully successful) first date.
Are you ready to crack the first-date code?
Find your human with these 99 witty questions that will have you laughing, blushing, and avoiding many a first-date faux pas.