The Homeschool Learn to Write Color Activity Workbook: A Workbook For Kids to Practice Pen Control, Line Tracing, Letters, Shapes and More! (ABC Kids (Paperback)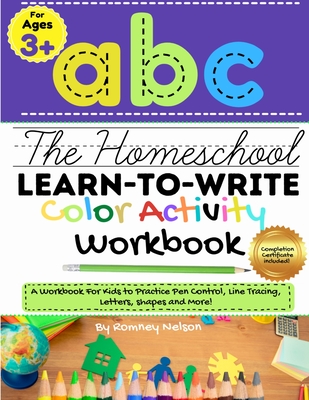 $12.99

Usually Ships in 1-5 Days
Description
---
The Homeschool Learn-to Write Color Activity Workbook is the perfect resource that has been specifically designed for 3 - 5-year-old kids to build confidence with the development of pen control and learning the letters of the alphabet through repetition.
The activity workbook has been split into 3 levels:
Level 1 - Lines & Shapes: This section is all about building the confidence and enjoyment of the child through interactive activities including straight & curved lines and shape formation.
Level 2 - Letter Development: This section introduces the child to capital and lower-case letters through the use of colorful pictures. With ample space for the repetition of each letter, the activities provide the child with the foundation to learn each letter and use the correct writing formation.
Level 3 - Word Development: In this section, the child can use the skills developed from the previous section to begin to write familiar words by tracing over the provided letters. This will continue to build confidence with the use of commonly known words.
The Homeschool Learn-to-Write Color Activity Workbook includes:
- Full color pages that provide fun and interactive activities
- Activities that build kids confidence and writing muscles through the use of fine motor skills
- Repetition of activities that will help boost reading and writing comprehension
- BONUS: A4 Color Completion Certificate for your child
- Large 8.5 x 11-inch book providing ample writing space
- Gloss cover for improved durability
Give your child the best start to reading and writing with 'The Homeschool Learn-to-Write Color Activity Workbook' today