Phantom Lure/Every Day Catastrophes (Paperback)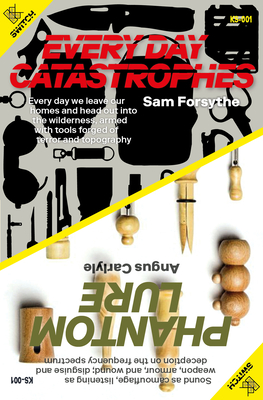 $18.95

Coming Soon - Available for Pre-Order Now
Description
---
Two original essays scrutinize the use of acoustic camouflage, and the function of toolkits as maps of internal dread and environmental threat.

The weaponization of listening, and the technical cartography of anxiety.

Two original essays scrutinize the use of acoustic camouflage, and the function of toolkits as maps of internal dread and environmental threat.

In Phantom Lure Angus Carlyle explores the ways in which the frequency spectrum can become a site for disguise and deception. Acoustic camouflage is deployed in the concrete curves of sound mirrors, military battlefield sensors, and snipers' sonic concealment tactics, but also in the silent steps of the hunter and the mimicry of duck calls, antler rattles, and fox flutes.

This trail of decoys leads us into forensic acoustic analysis, electronic voice phenomena, and music encrypted with secret signals—from Metal Gear Solid to "Windowlicker," from moths' thoraxes to horror-film whispers, from Silent Escape to Turing tests and vocoders.

Sam Forsythe's Every Day Catastrophes is an essay for the anxious, the paranoid, and the overly prepared. From the everyday carry of the urban explorer to the bug-out bag for total apocalypse, the toolkits we assemble in order to forestall anticipated yet unforeseen disasters are abstract environmental maps. Tools compress place, matter, and relation into the portable abstractions of points, edges, and levers. But they also embody inner landscapes, topographies shaped by anxiety and fear.

Every Day Catastrophes navigates this terrain of technics and terror, exploring how we equip ourselves for the unspecified threat conditions of modern life and tool up for anxiety-inducing futures.
About the Author
---
Sam Forsythe is a doctoral researcher in international security at the Peace Research Institute Frankfurt, and a member of the working group for "Research in Emerging Technologies, Order and Stability" (rETOS). His work examines the logic and ethics of deception in the discourse and practice of strategy, intelligence and information warfare, and attempts to critically reconstruct the adversarial rationalities emerging in contemporary stratagem and statecraft. Outside of his research work Sam has written on artifice, cunning, trickery and technics for artists' exhibitions and catalogues, and short stories for speculative and science fiction publications.

Angus Carlyle is Professor of Sound and Landscape at University of the Arts London. He studied law as an undergraduate, completed a masters in political theory, and a doctorate on the conditions of vocalised political exchange. With Cathy Lane, he co-wrote the oral histories In the Field (2013) and Sound Arts Now (2021). His creative work shifts between a documentary impulse and a more poetic register, and has involved collaborations with anthropologists, and filmmakers in documentary, field recording, and experimental writing projects.