Here Be Monsters: How to Fight Capitalism Instead of Each Other (Paperback)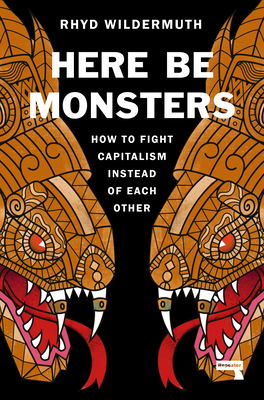 $16.95

Usually Ships in 1-5 Days
Description
---
A clear and engaging history of how left radicalism went wrong and how it can become what it must be again.

Here Be Monsters speaks to a left that has forgotten its history, its potential, and its power.

Gramsci spoke of a time of monsters or morbid symptoms. In the ancient world, monsters were not enemies, but rather divine warnings, symptoms of a world out of balance. Here Be Monsters meets these monsters and listens to what they have to tell us.

Interweaving personal stories with engaging histories of political thought and the meanings of monsters, Rhyd Wildermuth reveals the roots of current identity conflicts and political contradictions in feminism, anti-racist theory, Marxism, Frankfurt School theorists, and the many other leftist attempts to put the world back into balance.

The left has always been the province of dreamers and visionaries, or as Ursula K. Le Guin named them, "realists of a larger reality." Here Be Monsters is an urgent and deeply engaging narrative to help us remember that reality once more.
About the Author
---
Rhyd Wildermuth is a druid, theorist, publisher, former union organizer and street activist, and the author of Being Pagan: A Guide to Re-Enchant Your Life, All That is Sacred is Profaned: A Pagan Guide to Marxism, and Witches in a Crumbling Empire. Born in Appalachia and forged on the streets of Seattle, he now lives in the Ardennes and writes the popular Substack, From the Forests of Arduinna.
Praise For…
---
"Rhyd writes about some of the toughest, most contentious issues of our society — and he does so with empathy and wisdom. A great, highly informative book." - Yasha Levine, author of Surveillance Valley

"A call to a politics that is grounded in friendship, surely the starting point for building a common life in the troubled times around and ahead of us." - Dougald Hine, author of At Work in the Ruins: Finding Our Place in the Time of Science, Climate Change, Pandemics & All the Other Emergencies