Anti-Inflammatory Diet Meal Prep: 111 Recipes for Instant, Overnight, Meal- Prepped, and Easy Comfort Foods with 6 Weekly Plans (Large Print / Paperback)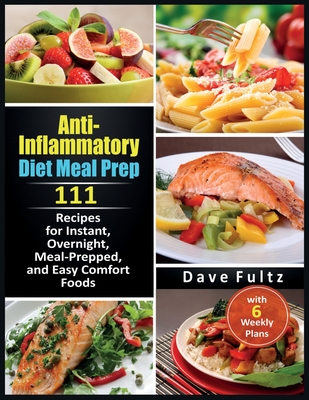 $13.97

Usually Ships in 1-5 Days
Description
---
Are you interested in a cookbook that is full of inflammatory diet recipes? If yes, then this is the right book for you Health practitioners recommend food choices consistent with the Mediterranean diet, full of vegetables and a fresh fruit, which science has shown beyond a doubt helps to protect the body against damage caused by inflammation. Many recipe ingredients typical of Mediterranean cuisine are among the top food choices that make up the anti-inflammatory diet.
A large part of the anti-inflammatory diet involves stay away from foods that encourage inflammation. Prevention is the best course of action, so understanding how inflammatory foods infiltrate our bloodstream and how this reaches a chronic or serious level is important.
This book covers:
Breakfast Recipes
Lunch Recipes
Dutch oven Dinner
Fish and Seafood
Poultry Recipes
And much more.
As deliberated prolonged low-grade inflammation, popularly termed chronic inflammation, occurs over a long period of time. Your choice in food can either encourage this low-grade inflammation to continue, or fight back against it. An understanding of how individual nutrients impact inflammation is important and will be explained within this book.
The ideal diet contains soluble fiber, monounsaturated fatty acids, and polyphenols, along with a high omega 3-omega 6 ratio and very few refined carbohydrates. The Anti-inflammatory diet focuses on nutrient-rich foods and thus provides your body with everything it needs and nothing that it doesn't. Its recipes incorporate vegetables, fish, fruits, healthy fats, and whole grains. Strong adherence to this diet has been shown to tremendously improve health. Combined with good levels of physical activity, the Anti-inflammatory diet is one of the healthiest regimens, used not only for anti-inflammation purposes but for maintaining good health overall.
An important aspect of an anti-inflammatory diet is that it includes antioxidants, which reduce the risk of repeat inflammation and the development of associated health concerns.
The full benefits of committing to anti-inflammatory nutrition cannot be understated. As you scale back your consumption of foods that lead to or intensify inflammation, you reduce its effects and achieve greater health. The better your health, the better your quality of life.
It's all well and good to state that an anti-inflammatory diet will improve your quality of life and prevent diseases, but you're probably wondering if there's any proof. This book will explore the science behind the idea of combating inflammation and present studies that have looked into the benefits of anti-inflammatory diets.
Click buy now