Mountain Dew Cookbook: 150+ Dang Good MNT DEW Recipes that Use the Lemon-Lime Drink in Ways You've Never Seen Before (Hardcover)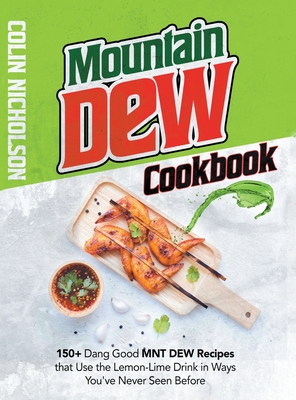 $29.97
Email or call for price
Description
---
Do you want to learn how to make 150+ dang good mountain dew recipes that use the lemon-lime drink in ways you've never seen before? If yes, then keep reading...
Mountain dew is one of the most delicious beverages ever created. It has a great taste and is very addicting. If you are a huge mountain dew fan, then this cookbook is precisely what you are looking for.
These mountains dew recipes are not only unique but also healthy for people who love to cook, drink and cherish their health; that is why this is a must read for every mountain dew drinker. These recipes are fun, easy to fix, healthful and taste absolutely delicious if prepared properly and are made with love.
With a keen eye for simplicity, we have come up with a list of 150 gorgeous and tantalizing mountain dew recipes to get you out of your cooking rut and provide you with on-point new recipes that are easy and fun to make for any occasion.
Whoever you are - a beginner to a skilled chef - these recipes will sure make your cooking experience even more fun and interesting. So, if you think you are bored with your cooking, and you are in need of some new mountain dew recipes to try then this cookbook is just for you
And if you already know how to cook like a pro, then never fear. We have made sure to come up with a list of 150 recipes that will appeal to every big mountain dew drinker out there.
This book covers the following topics:
- Dang Good Breakfast Recipes
- Dang Good Snack Recipes
- Dang Good Sea Food Recipes
- Dang Good Meat and Poultry Recipes
- Dang Good Sauces Recipes
- Dang Good Desserts Recipes
- Dang Good Drink and Cocktails Recipes
- Dang Good Ice Cream Recipes
- Mnt Dew Recipes
...and much more
There are recipes like minty treats, sparkling drinks, innovative puddings, cocktails, wonderfully flavored and aromatic gravy, and a myriad other delicious treat for every type of mountain dew drinker.
This cookbook is aimed towards every age and every type of person. Whether you are a young adult who loves the dew or a parent of young kids who want to create some wonderful recipes for your family or a cooking enthusiast looking out for interesting recipes or an adventurous cook visiting this page out of curiosity or a just a someone who is bored with their routine and in need of some mountain dew recipes that they can try, then this cookbook is just for you. We promise you won't be disappointed