Libro de Cocina de La Máquina para Hacer Pan: El libro de Cocina Definitivo con Recetas Infalibles para Hacer un Pan Sano y Casero (Bread Machine Cook (Paperback)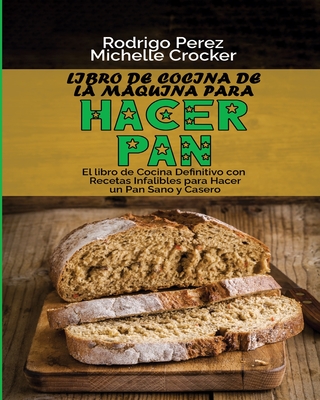 $25.99

Usually Ships in 1-5 Days
Description
---
Can the incomparable taste, texture, and aroma of handcrafted bread from a neighborhood bakery be reproduced in your bread machine?
You are to discover how this is not only possible but certain
Your customers will never stop using this amazing cookbook
So...you bought a bread machine, great
... but now you are looking for things to bake and need a place to start. You are running out of recipe ideas and would like to try out something new.
Guess What? Bread Machine Cookbook has everything necessary to meet your needs. There's nothing better than the taste of homemade bread and no one brings it to you better than This Guide.
Inside This Book you will:
● Learn How to Cook Tasty and Delicious Meals with Your Bread Machine to show you that your bread maker is not just for baking bread but there are several items beyond that loaf of bread that you can cook in a bread maker.
● Find Complete and Accurate Instructions to Help You Choose The Best Bread Machine and find out what makes a great bread maker and what to look for to avoid the worst in terms, among others, of size and weight, what features look for, etc
● Understand The Essential Cycles of the Bread Machine and why the numerous cycles and settings can make baking fresh bread a treat instead of a chore. However, sometimes all the cycles can be confusing and it's difficult to know which one to use for a particular recipe. Or if you're choosing a new bread machine, it's important to understand what all the cycles do so you know which ones you will need.
● Discover The Main Ingredients That Must Never Be Missing; even though it's all going into the same place, the order of ingredients is more important than you may think. The measurements and the choice of each ingredient are simple even for beginners to be able to make recipes with any bread machine.
● Taste 100+ Easy, Healthy, and Foolproof Recipes to bake loaves at home easily (and perfectly balanced ). No matter if it's breakfast, dinner, or Christmas, these homemade bread recipes will transform any occasion from "ho-hum" to extraordinary.
● ... & Lot More
You can pretty much throw away your bread-machine user's manual when you use This Book. It will guide you step-by-step on how to make bread successfully with your bread machine.
There's nothing better than the taste of homemade bread and no one brings it to you better than This Foolproof Cookbook
Buy it NOW and let your customers become addicted to this incredible book