Libro de Recetas de La Máquina para Hacer Pan: El libro de Cocina Paso a Paso con Recetas a Prueba de Tontos y Saludables para Hacer Pan Sabroso en Ca (Hardcover)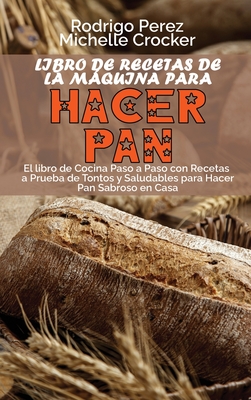 $33.99

Usually Ships in 1-5 Days
Description
---
Can the incomparable taste, texture, and aroma of handcrafted bread from a neighborhood bakery be reproduced in your bread machine?
You are to discover how this is not only possible but certain
Your customers will never stop using this amazing cookbook
So...you bought a bread machine, great
... but now you are looking for things to bake and need a place to start. You are running out of recipe ideas and would like to try out something new.
Guess What? Bread Machine Cookbook has everything necessary to meet your needs.
Inside This Book you will:
● Find Complete and Accurate Instructions to Help You Choose The Best Bread Machine
● Taste 40+ Easy, Healthy, and Foolproof Recipes to bake loaves at home easily (and perfectly balanced ). No matter if it's breakfast, dinner, or Christmas, these homemade bread recipes will transform any occasion from "ho-hum" to extraordinary.
● Find breakfast breads
● Find Italian styled breads
● Find spice and herb breads
● Find sweet breads
● ... & Lot More
You can pretty much throw away your bread-machine user's manual when you use This Book. It will guide you step-by-step on how to make bread successfully with your bread machine.
There's nothing better than the taste of homemade bread and no one brings it to you better than This Foolproof Cookbook
Buy it NOW and let your customers become addicted to this incredible book