LLC Practical Guide (Starting a Small Business / Company Book 2): The Practical Guide To Starting, Forming, Converting & Taxes For Limited Liability C (Hardcover)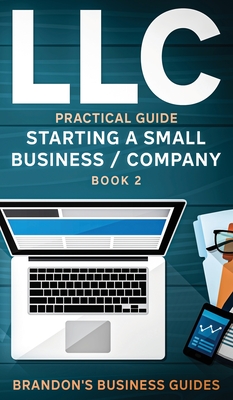 $24.97

Usually Ships in 1-5 Days
Description
---
If You Want to Discover Everything You Need to Know about LLC's and If They're The Right Fit for Your Business Then Keep Reading...
Do you want to Discover the power of Limited Liability Companies? Do you want to learn about the many (including Tax) benefits of an LLC? Do you want to discover if an LLC is right for your business?
LLC's have surged in popularity in recent years...and for many reasons
Not only do they provide numerous Tax and Liability benefits, but they can be fairly easy to start yet without the correct education on LLC's they might not be the best fit for your situation.
Like anything, LLC's have their disadvantages for certain businesses, and we will discuss this too, and make sure you know whether an LLC is right for YOU and your business. (And save you $1000s either way )
If you are starting (or have) your own business, you quite simply must understand how LLC's work
So instead of aimlessly browsing the internet or watching YouTube videos on LLC's, we created the ultimate LLC guide that will save you tens of hours on the learning process and will make you an LLC expert in no time at all.
It's time for you to become an LLC expert.
Here's just a slither of what you'll discover inside...
The Exact Formula for Determining If an LLC is Right for Your Business (and For Your Future Business Endeavours)
The Step by Step Guide to Forming Your Own LLC Without Spending $1000's Or Wasting Hours On The Wring Things
4 Tax Advantages of an LLC You Could be Missing Out On (This Could Save You A LOT Come Tax Season)
This 1 Reason Could be Enough To Form Your LLC TODAY
The Foolproof Guide to Converting Another Business Entity Into an LLC Seamlessly
How to Know When an LLC ISN'T Right For Your Business (This Is Just as Important As Knowing When It Is...)
The Near Enough Unknown Benefits of Dissolving Your LLC- Including The 3 Best Ways To Go About It
Discover The Must Know Tools You Need to Streamline The Formation Process Of Your LLC
A Practical Guide To Starting Both Single and Multi-Member LLC's (And What One Is Best For Your Situation)
And that is hardly scratching the surface
BONUS- Updated Tax Benefits For The Latest Tax Year
Even if you have NO LLC experience, even if you have absolutely no idea how to form an LLC for your business and even if you have zero clue on what is the best business entity for your situation, this book outlines EVERTHING you need to know about LLC's as well as if they are the right fit for your business.
So, If You Want To Discover How You Could Potentially Save $1000's In Tax And Liability Benefits & Discover If An LLC Is Right For You Then Scroll Up And Click "Add To Cart."