Bedtime Meditation Stories for Kids and Children: A Collections of Short Fairy Tales to Help Toddlers Relax and Fall Asleep. Share Memorable Moments w (Hardcover)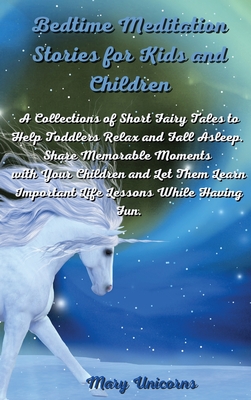 $36.95
Email or call for price
Description
---
Are you looking for a storybook to help your children fall asleep and enjoy the night? If yes, then keep reading...
All your customers will get addicted to this amazing book
If you have always wanted great stories to help your children fall asleep, then this compendium is one of your best bets.
Go sleeping can be a very frustrating moment not only for parents but also for their little babies. In the evening, tired by a long and demanding day, you are looking forward to having your children peacefully sleeping in their bed.
You only would like to enjoy a glass of wine or a beer with your partner and, at the same time, your kids are not willing to listen to reason: they want you beside them till they fall asleep.
Have you already read thousand and thousand of time the same bedtime stories and you're getting bored with all the books you already know by heart?
If this picture sounds familiar to you, this book is exactly what you need.
This collection represents some of the most widely known and famous children's literature: you children will be able to listen to their favorites fairy tales over and over again. Over 40 stories to help your children to be mindful and learn at a tender age are contained in this productive book.
Many of these fables bestow human traits upon animal characters and place them in human situations to highlight desirable and less desirable traits. The intent of these inspirational stories is to help your children get inspired for both now and the future. Both boys and girls will enjoy listening to these timeless and spellbinding fairy tales and parents will appreciate their intrinsic learning aspect.
Handsomely packaged and affordable, this book is part of a classic series for children that aim to revitalize this enchanting world and continue the tradition of sharing them with the next generation.
The stories will reveal each of the following to your children:
Stimulate increasing imagination
Take your children creativity to new heights
Memorable interesting stories that are sure to catch the interest of your child
Importance of a restoring sleep
Simple tips and tricks to fall asleep quickly and have big dreams
Easy to follow meditation exercises for kids
Desirable and less desirable behavior
Easy learning lessons without waiting for a teacher
Opportunity to let your children continue living following the example of their favorites characters
If you want to spend quality time with your kids that they would cherish for life, learn how to help them to be mindful and let your babies enjoy peaceful nights and have big dreams, then simply click the buy now button on this page to get started
GRAB YOUR COPY NOW if you want your customers to spend a fantastic time with their children thanks to this fantastic book.