Pegan Diet Smoothies - 100% VEGAN!: Delicious Plant-Based Paleo Smoothie Recipes for Vibrant Health, Abundant Energy, and Natural Weight Loss (Paperback)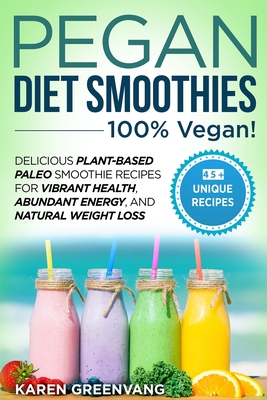 $13.99

Usually Ships in 1-5 Days
Description
---
Delicious and Nutritious 100% Vegan Paleo (Pegan) Smoothie Recipes to Help You Look and Feel Amazing...even on a busy schedule.
Over 45 healing, easy-to-follow tasty recipes inside
This book is an excellent choice for:
-vegans and vegetarians
- healthy, whole food, plant-based lifestyle lovers
-paleo diet fans who would like to explore more of a gatherer's side of this diet and eat more fruits, veggies, greens, and herbs
-gluten-free diet followers (the vegan paleo diet is 100% gluten-free and 100% lactose-free).
-anyone wishing to restore natural energy via fresh, plant-based foods
One of the easiest ways to incorporate more vegan paleo foods into your diet is through smoothies.
With this guide, you will learn a myriad of recipes that follow the vegan paleo rules and include a variety of smoothies such as:
-green smoothies and detox smoothies (perfect to add more green, alkalizing foods, and leafy greens into your diet)
-protein smoothies - these are great as a meal replacement and will keep you energized, strong and healthy
-soup smoothies- these are smoothies that can be easily turned into a delicious, healing soup (raw or cooked)
-tasty, colorful fruit smoothies
-naturally sweet treat smoothies (yummy )
You will discover naturally sweet smoothies, spicy smoothies, and savory smoothies.
We will even explore oriental taste while learning about the best superfoods that you can use with your vegan paleo smoothie recipes.
Don't worry, these superfoods and herbs are easy to find in your local grocery store and inexpensive.
Inside this guide, you will also find easy to follow food lists and shopping lists to help you on your journey.
Order your copy today and start creating more energy and zest for life with vegan paleo (pegan) smoothies