Paleo Smoothies: Super Delicious & Filling, Protein-Packed, Low in Sugar, Gluten-Free, Easy to Make, Fruit and Veggie Superfood Smoothi (Paperback)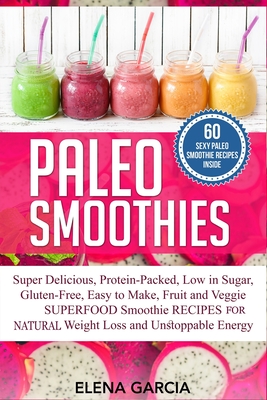 $16.99

Usually Ships in 1-5 Days
Description
---
Why Paleo Smoothie Recipes?
Are you looking for easy to follow healthy recipes to help you look and feel amazing?
Sick and tired of spending long hours in your kitchen trying to figure out how to put some healthy meals together?
Or maybe you tried something healthy, but it didn't taste good and you lost your motivation?
What about some easy, takeaway meals?
Or a quick snack and breakfast ideas?
Whatever your health and fitness goal is, you will find your answers in Paleo Smoothies.
Paleo Smoothies offer the most effective, fruit, veggie and superfood blends that are:
-low in sugar-rich in natural protein (all Paleo approved),
-rich in healthy protein to help you stay energized
-all gluten-free
-full of mind-body healing antioxidants
-super filling and great for natural weight loss
Paleo smoothies are tasty, easy and quick to prepare even on a busy schedule.
They can be used as a quick snack or breakfast.
These smoothies are great for weight loss being full of fiber, vitamins, and minerals.
You will find them useful for fasting or as a meal replacement.
The best part is- you don't need to be a great cook. Not at all. And you can get super creative and even if you don't follow the recipes 100%, you are still bound to come up with something amazing.
You can play around with many of the ingredients and come up with your own favorites.
You can leave things out or add some new ones so that you create the taste you love.
That's what I love about Paleo Smoothies, they are so changeable but still so tasty and nutritious. Change things up and try something new. Have fun, be creative
What I really love about Paleo fruit smoothies is that they can be an amazing guilt-free, dairy-free treat and be turned into an ice-cream as well. Many "fruity" Paleo smoothies also sneak in some greens and veggies, which makes them excellent, beginner-friendly smoothies.
Veggie Paleo smoothies, on the other hand, can be turned into a delicious soup. You can even spice it up with many oriental herbs, chili, and some meat or fish leftovers. That will allow you to spend less time in the kitchen and save your time and money on mindless cooking or eating out.
It's so ridiculously easy...you just blend some ingredients following the recipe and add in some paleo-friendly foods like nuts, seeds, meat, seafood, hard-boiled eggs, olives...and voila- you have a delicious, satisfying meal within a few minutes. And you get rid of some leftovers in a creative way.
Inside this guide, you will find 60 Delicious Paleo Smoothie Recipes for all occasions.
You will also find very easy to follow explanations and a bonus paleo guide (even if you're new to Paleo or healthy eating, don't worry, we got you covered )