Threat: Everything You Should Know about Technology, Capitalism and Patriarchy (Hardcover)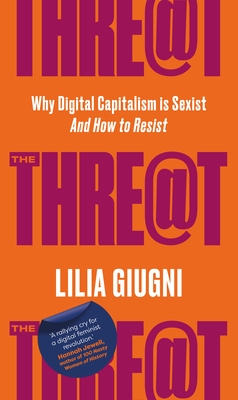 $22.95

Usually Ships in 1-5 Days
Description
---
Patriarchy, capitalism and technology, three of the driving forces of 21st-century life, are all tightly intertwined. Threat explains why we should care and what we can do about it.

Within today's patriarchal digital capitalism, communication technologies are used to oppress, control, violate and exploit women. But the internet is no parallel dimension, and digital tools do not exist in a vacuum. Rather, they are a reflection of the economic, social and political processes behind their creation, which are highly gendered and unfair to begin with. Should it come as a surprise that the digital world ended up mirroring and amplifying the sexism, misogyny, and social injustice already present in our society?

The digital revolution, however, can offer unprecedented opportunities for women's liberation. This is why Threat, while clearly denouncing those who gain from the status quo and have so far failed to take action, also suggests a roadmap towards 'taking back the tech'. From digital monopoly regulation to legal personnel training, from educational interventions to feminist initiatives in tech, we can and we must achieve digital justice for women and for all.
About the Author
---
Dr Lilia Giugni is a researcher at the Cambridge Centre for Social Innovation at the University of Cambridge, a feminist activist, and the co-founder and CEO of the think tank Genpol - Gender and Policy Insights. Born in southern Italy, she holds a PhD in Politics from the University of Cambridge and is a Fellow of the Royal Society of Arts. Her research interests and advocacy work focus on violence against women and girls, the gendered side of technology and innovation, and the intersections between gender, racial and social injustice. She sits on the board of several charities, social enterprises and feminist networks.