Tess of the d'Urbervilles Gift Pack - Lined Notebook & Novel (Other)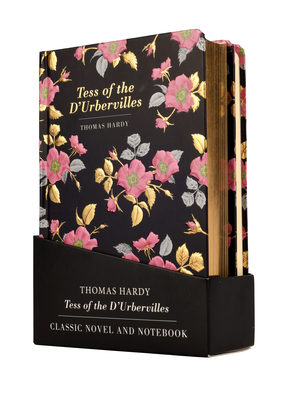 $35.00
Email or call for price
Description
---
This gift pack contains both the hardcover classic novel and a matching ruled hardcover notebook in a one quarter slipcase.
Bringing one of the world's most beautiful editions of the classic novel, Tess of the d'Urbervilles by Thomas Hardy, and a blank lined writing journal with a matching cover, in one beautifully presented gift package.
Tess of the d'Urbervilles tells the story of a na ve Tess Durbeyfield who is sent by her slothful father and ignorant mother to make an appeal to a nearby wealthy family who bear the ancestral name d'Urberville. Tess, attractive and innocent, is seduced by dissolute Alec d'Urberville and secretly bears a child, Sorrow, who dies in infancy. Later working as a dairymaid, she meets and marries Angel Clare, an idealistic gentleman who rejects Tess after learning of her past on their wedding night. Emotionally bereft and financially impoverished, Tess is trapped by necessity into giving in once again to d'Urberville, but she murders him when Angel returns
Chiltern creates the most beautiful editions of the World's finest literature. Your favorite classic titles in a way you have never seen them before: the tactile layers, fine details and beautiful colors of these remarkable covers make these books feel extra special and look striking on any shelf.