Confessions of a Heretic, Revised Edition (Hardcover)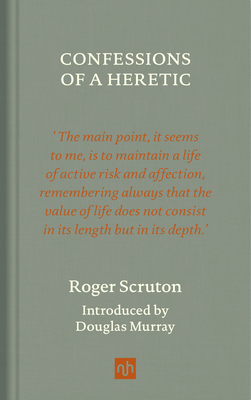 for information about purchasing this book, please contact orders@bookpassage.com
Description
---
A revised edition of the Notting Hill Editions essay collection by the late Sir Roger Scruton with a new introduction by Douglas Murray.

Confessions of a Heretic is a collection of provocative essays by the influential social commentator and polemicist Roger Scruton. Each "confession" reveals aspects of the author's thinking that his critics would probably have advised him to keep to himself. In this selection, covering subjects from art and architecture to politics and nature conservation, Scruton challenges popular opinion on key aspects of our culture: What can we do to protect Western values against Islamist extremism? How can we nurture real friendship through social media? Why is the nation-state worth preserving? How should we achieve a timely death against the advances of modern medicine? This provocative collection seeks to answer the most pressing problems of our age.

In his introduction, the bestselling author and commentator Douglas Murray writes of what it cost Scruton to express views considered unpalatable, and of the importance of these ideas after Scruton's death.
About the Author
---
Roger Scruton (1944–2020) was a philosopher, public commentator, and the author of more than forty books, including Notes from Underground and Fools, Frauds and Firebrands: Thinkers of the New Left. He specialized in aesthetics with particular attention to music and architecture. He was a fellow of both the Royal Society of Literature and the British Academy. 

Douglas Murray is the bestselling author of six books, including The Madness of Crowds and The Strange Death of Europe. He is an associate editor at The Spectator.