What Time Is It? (Hardcover)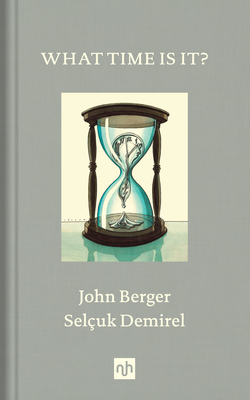 $18.95
Email or call for price
Description
---
"Patience, patience, because the great movements of history have always begun in those small parenthesis that we call 'in the meantime.'" —John Berger
 
The last book that John Berger wrote was this precious little volume about time titled What Time Is It?, now posthumously published for the first time in English by Notting Hill Editions. Berger died before it was completed, but the text has been assembled and illustrated by his longtime collaborator and friend Selçuk Demirel, and has an introduction by Maria Nadotti.
 
What Time Is It? is a profound and playful meditation on the illusory nature of time. Berger, the great art critic and Man Booker Prize–winning author, reflects on what time has come to mean to us in modern life. Our perception of time assumes a uniform and ceaseless passing of time, yet time is turbulent. It expands and contracts according to the intensity of the lived moment. We talk of time "saved" in a hundred household appliances; time, like money, is exchanged for the content it lacks. Berger posits the idea that time can lengthen lifetimes once we seize the present moment. "What-is-to-come, what-is-to-be-gained empties what-is."
About the Author
---
John Berger (1926–2017), storyteller, essayist, screenwriter, dramatist, and critic, was one of the most internationally influential writers of the last fifty years. His many books include Ways of Seeing, the Man Booker Prize–winning novel G, Here Is Where We Meet, From A to X, Cataract (with Selçuk Demirel), and most recently, Confabulations.
 
Selçuk Demirel was born in Artvin, Turkey, in 1954. He trained as an architect and moved to Paris in 1978, where he still lives. His illustrations and books have appeared in many prominent European and American publications. Demirel's work ranges from book illustrations, magazine covers, and children's books to postcards and posters.
 
Maria Nadotti is a journalist, essayist, editorial consultant, and translator. She lives in Milan and Berlin.
Praise For…
---
Praise for John Berger and Selçuk Demirel
 
"John Berger writes about what is important, not just interesting. In contemporary English letters he seems to me peerless; not since Lawrence has there been a writer who offers such attentiveness to the sensual world."—Susan Sontag
 
"In his ceaselessly inventive work, Selçuk often uses parts of the body in ways that are characteristically Turkish...as if the comedy of the human condition were there in the human body, in the melancholy of anatomy."—John Berger
 
Praise for Cataract
 
"I love this small book of intricate insight."—Michael Ondaatje