Demian: the story of a youth (Aziloth Books) (Paperback)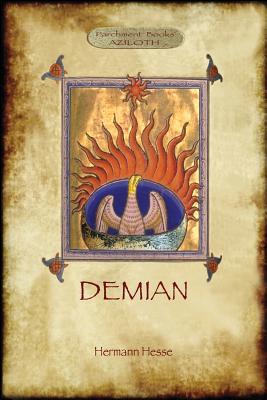 for information about purchasing this book, please contact orders@bookpassage.com
Description
---
Hermann Hesse was born in 1877 at Calw, Germany, into a scholarly and deeply religious family. Hesse's "tyrannical temperament, and passionate turbulence" led to conflict with his strait-laced parents and his adolescence was unhappy - brief stints at a variety of different schools culminating in a suicide attempt and a short stay in a mental institution. Determined to become a writer, Hesse used these unfortunate experiences as the basis of many of his critically acclaimed books, including the present work.
Demian is the story of a young boy, Emil Sinclair, and his quest for personal development as he grows into manhood - a process that brings him up against many strange characters and even stranger theories of life's true purpose. His 'spiritual guide' in this endeavour is Max Demian, an enigmatic youth who befriends the troubled Emil and, with the help of his mother Frau Eva, gradually brings him to a deeper understanding of his innermost self.
The book is at once a poignant coming-of-age story and an impassioned enquiry into the truth behind the confusing, and often contradictory, world-systems as espoused by Christianity, Gnosticism, Buddhism, Daoism and Hinduism. Shot through with writings of such luminaries as Carl Gustav Jung and Friedrich Nietzsche, Demian is an exhilarating exploration of what it means to be young and human, and the oftimes tortuous path towards some form of enlightenment.