When Cultures Collide: Leading Across Cultures (Paperback)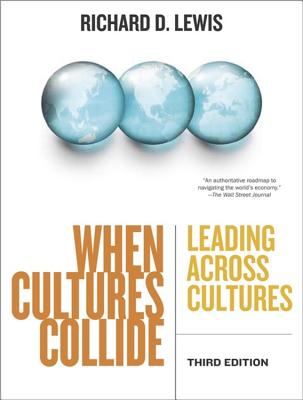 Description
---
The successful managers for the next century will be the culturally sensitive ones. You can gain competitive advantage from having strategies to deal with the cultural differences you will encounter in any international business setting.

Richard Lewis provides a guide to working and communicating across cultures, and explains how your culture and language affect the ways in which you think and respond. This revised and expanded edition in paperback of Richard Lewis's book provides an ever more global and practical guide not just to understanding but also managing in different business cultures. New chapters on more than a dozen countries - from Iraq, Israel and Pakistan to Serbia, Columbia and Venezuela - vastly broaden the range.
About the Author
---
Richard Lewis is the chairman of Richard Lewis Communications, an international institute of cross-cultural and language training with offices in over 30 countries. He founded the quartely magazine Cross Culture in 1989 and is heavily involved in the intercultural field, lecturing in countries from Finland to Hong Kong and working with companies as diverse as Fiat, IBM, Nokia, Andersen Consulting and Nestle. He lives near Winchester, and is one of Britain's foremost linguists, speaking 12 languages - and spent 5 years in Japan, where he was tutor to the Imperial Family.
Praise For…
---
Lewis is a crosscultural expert who has now presented his wisdom in a highly readable book.—Evening Standard

This eloquent, easy-to-read book covers everything you need to consider to create a structure that will allow your international team to succeed...Lewis brings theory to life through a number of engaging case studies, as well as his own personal experience... Lewis has achieved a fine balance between theory often delivered in a light-hearted and easy to remember way and tactical every day application. Whether your international team is 10 people or 10,000 people, the clear narrative provides valuable insight... This fascinating subject is crucial to the success of global business.—People Management

Lewis provides urbane and knowledgeable guidance... Verdict: this book could mean the difference between winning and losing valuable orders abroad.—The Director