ACT Verbal Prep Course (Paperback)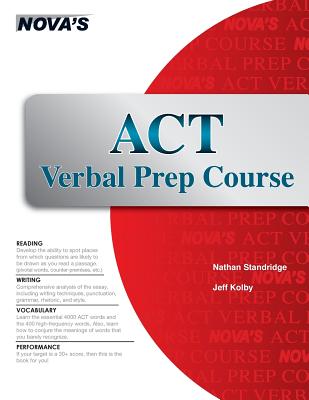 $34.95

Usually Ships in 1-5 Days
Description
---
Comprehensive Prep for ACT Verbal
Every year, students pay $1,000 and more to test prep companies to prepare for the verbal sections of the ACT. Now you can get the same preparation in a book.
The verbal sections are not easy. There is no quick fix that will allow you to "beat" the ACT, but it is very learnable. If you study hard and master the techniques in this book, your score will improve--significantly.
The ACT cannot be "beaten." But it can be mastered--through hard work, analytical thought, and by training yourself to think like a test writer. Many of the exercises in this book are designed to prompt you to think like an ACT test writer.
With this book by your side, you will soon master punctuation, grammar, and rhetoric, which will help you on all sections of the ACT. You will soon be able to understand how test writers choose and compose test questions. And you will soon be able to write top-scoring essays without breaking a sweat.
Features:
* Reading: Develop the ability to spot places from which questions are likely to be drawn as you read a passage. (pivotal words, counter-premises, etc.)
* Writing: Comprehensive analysis of the essay, including writing techniques, punctuation, grammar, rhetoric, and style.
* Vocabulary: Learn the essential 4000 ACT words and the 400 high-frequency words. Also, learn how to conjure the meaning of words that you barely recognize.
* Performance: If your target is a 30+ score, then this is the book for you