French Tarts: 50 Savory and Sweet Recipes (Hardcover)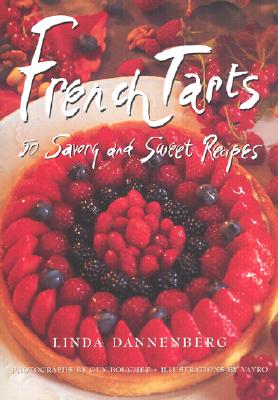 Description
---
Glossy, tempting, and brazenly luscious, the French tart is a scrumptious seductress. In
French Tarts,
Linda Dannenberg presents fifty of the most delectable and easy-to-prepare savory and sweet tarts from the top bakers, chefs, and great home cooks of France. The featured tarts hail from many different regions--Provence, Burgundy, Bordeaux, the Riviera, and, of course, Paris. Photographed on location throughout France, Guy Bouchet's full-color images, combined with the charming illustrations and rustic hand lettering of renowned illustrator Vavro, create the literary equivalent of an authentic French culinary experience.
Among the savory tart recipes are: a pungent Pissal-adiFre--the onion, black olive and anchovy tart so popular in Nice; the GGteau dePommes BoulangFre, a traditional "Baker's Wife" potato-and-goat-cheese tart; and the remarkable Tartelettes NapolTon au Saumon FumT, an intensely flavored smoked salmon tart.
French Tarts also contains recipes for sweet tarts including: a delectable version of the traditional Tarte Tatin, this one an upside-down apple-and-pear tart from the Anjou region of France; the Tarte aux Framboises Proventale, a baked raspberry-and-flan tart from the C(te d'Azur; and an exquisite Tarte au Chocolat InfusT au Basilic--an intense chocolate tart perfumed with basil.
Savory with cheese and vegetables or sweet and succulent with fresh fruit, nothing captures the essence of French pastry more eloquently than the tart.
About the Author
---
Guy Bouchet is a leading photographer whose work also illustrates Paris Boulangerie-Patisserie, Paris Bistro Cooking, the Pierre Deux series, Italian Style, and Italian Country. He lives in Paris and Burgundy.
Alain Vavro is an artist and graphic designer based near Lyon, France. His work has graced a variety of products for such internationally known clients as Villeroy & Boch, Georges Duboeuf, Paul Bocuse, and Au Printemps.
Linda Dannenberg, a contributor to Town & Country, The Los Angeles Times, and Wine Spectator, has worked with and written about many of France's great chefs and bakers. Her love for the art of French cooking finds expression in her numerous books, among them Paris Boulangerie-Patisserie, Paris Bistro Cooking, and French Tarts.