In the Shadow of the Sabertooth: Global Warming, the Origins of the First Americans, and the Terrible Beasts of the Pleistocene (Counterpunch) (Paperback)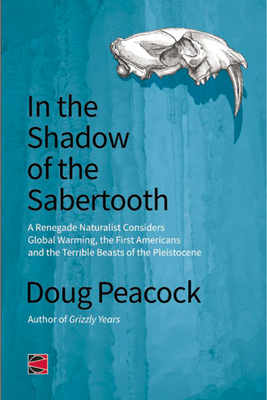 $16.95
Email or call for price
Description
---
Doug Peacock, as ever, walks point for all of us. Not since Bill McKibben's
The End of Nature
has a book of such import been presented to readers. Peacock's intelligence defies measure. His is a beautiful, feral heart, always robust, relentless with its love and desire for the human race to survive, and be sculpted by the coming hard times: to learn a magnificent humility, even so late in the game. Doug Peacock's mind is a marvel--there could be no more generous act than the writing of this book. It is a crowning achievement in a long career sent in service of beauty and the dignity of life.--Rick Bass, author of
Why I Came West
and
The Lives of Rocks
Our climate is changing fast. The future is uncertain, probably fiery, and likely terrifying. Yet shifting weather patterns have threatened humans before, right here in North America, when people first colonized this continent. About 15,000 years ago, the weather began to warm, melting the huge glaciers of the Late Pleistocene. In this brand new landscape, humans managed to adapt to unfamiliar habitats and dangerous creatures in the midst of a wildly fluctuating climate. What was it like to live with huge pack-hunting lions, saber-toothed cats, dire wolves, and gigantic short-faced bears, to hunt now extinct horses, camels, and mammoth? Are there lessons for modern people lingering along this ancient trail?
The shifting weather patterns of today--what we call global warming--will far exceed anything our ancestors previously faced. Doug Peacock's latest narrative explores the full circle of climate change, from the death of the megafauna to the depletion of the ozone, in a deeply personal story that takes readers from Peacock's participation in an archeological dig for early Clovis remains in Livingston, MT, near his home, to the death of the local whitebark pine trees in the same region, as a result of changes in the migration pattern of pine beetles with the warming seasons.
Writer and adventurer Doug Peacock has spent the past fifty years wandering the earth's wildest places, studying grizzly bears and advocating for the preservation of wilderness. He is the author of Grizzly Years; Baja; and Walking It Off and co-author of The Essential Grizzly. Peacock was named a 2007 Guggenheim Fellow, and a 2011 Lannan Fellow.
In Oakland, California on March 24, 2015 a fire destroyed the AK Press warehouse along with several other businesses. Please consider visiting the AK Press website to learn more about the fundraiser to help them and their neighbors.
About the Author
---
Doug Peacock is the author of Grizzly Years, Baja, and Walking It Off: A Veteran's Chronicle of War and Wilderness. His latest book, co-written with Andrea Peacock, is The Essential Grizzly: The Mingled Fates of Men and Bears. A disabled Vietnam veteran and Green Beret medic, Peacock was the real-life model for Edward Abbey's George Washington Hayduke. He has published widely on wilderness issues ranging from grizzly bears to buffalo, from the Sonoran desert to the fjords of British Columbia, from the tigers of Siberia to the blue sheep of Nepal. Peacock was named a 2007 Guggenheim Fellow and a Lannan Fellow for his work on a new memoir about archeology, climate change and the peopling of North America. He lectures regularly about wilderness and veterans issues, often at schools including The Hotchkiss School, California Academy of Sciences, Scotts Community College in Iowa, Texas A&M, Middlebury College, University of Minnesota, Ohio University, University of Montana, The Thacher School, University of Kansas and many others. Doug was the subject of a feature film about grizzlies and Vietnam, Peacock's War, which premiered on PBS's Nature and the Discovery Channel, and won the grand prizes at the Telluride Mountainfilm and the Snowbird film festivals. He has appeared on television shows including the Today Show, Good Morning America, NBC Evening News, PM Magazine, Sesame Street, American Sportsman and Democracy Now. Doug co-founded the Wildlife Damage Review, Vital Ground and Round River Conservation Studies, and is an active member of the board of directors for Round River Conservation Studies and the Raincoast Conservation Society, whose efforts are directed toward the conservation of large landscapes. Raincoast works primarily on the British Columbian coast, forging an alliance with First Nations to change logging practices, end salmon farming and trophy brown bear hunts. Round River labors on a larger scale, working with indigenous people and governments in Africa, North, South and Central America to develop region-wide conservation strategies protecting and enhancing intact ecosystems (simultaneously training college students--who perform much of the field work--in environmental sciences). For his service in Vietnam, Doug was awarded Soldier's Medal, the Vietnamese Cross of Gallantry, and the Bronze Star. He lives in Emigrant, Montana.