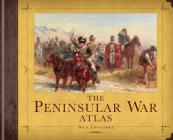 Description
---
The Peninsular War saw some of the bloodiest fighting of the Napoleonic Wars. Over a period of five years, it is estimated that half a million soldiers and civilians were killed. The battles, however, are less well-known than those of other Napoleonic battles; despite the exposure give to this theater in Bernard Cornwell's "Richard Sharpe" series of novels, the soldiers who fought there have received little public recognition. Now, with the beginnings of the bicentennial commemorations of the Peninsular War, this theater is gaining wider recognition.
The Peninsular War Atlas has been put together over the last decade by Colonel Nick Lipscombe of the British Army. Based in Spain, he is the chairman for the official organization of Peninsular War commemorations, and his thirty years of military service bring a unique perspective to this first complete atlas of the war. In collaboration with Spanish authorities and academics, he has re-evaluated key battles and offers readers new interpretations of the sources available.
Illustrated throughout with 160 high-standard maps, accompanied by a text narrating the entire war, this title is a must for anyone interested in Napoleonic history.
About the Author
---
Colonel Nick Lipscombe was born in 1958 in Angers, France. He has a degree in business studies and an MSc in defence studies. He was commissioned into the Royal Artillery in 1980. During his thirty years in the British Army he has seen considerable operational service with the British and American armies, as well as with NATO and the UN. He was awarded the US Bronze Star in 2006.A keen interest in military history followed his academic studies at the Royal Military Academy, Sandhurst concentrating on the Napoleonic era and the Peninsular War in particular. He is Chairman of Peninsular War 200, the UK official organization for the commemoration of the bicentenary of the Peninsular War. He speaks German and Spanish, currently works in Portugal and lives in Spain with his wife Janny and their three daughters. The author lives in Spain.
Praise For…
---
"A prodigious achievement." - Richard Holmes

"...this is an important and essential book for anyone interested in Napoleonic history." -Toy Soldier & Modeler Figure (April 2011)

"...deserves an outstanding place among the many books published about the conflict, both in Britain and the Peninsula." - Alicia Laspara, Publishers Weekly 

"...a must for anyone interested in Napoleonic history ... an essential guide to the conflict."

"This beautiful atlas is a chronicle of the events in [the Peninsular War] from 1807 to 1814 with a detailed map of each campaign." - Tour of Duty Atlantic (March 2011)

"This handsome collection of 160 new maps details the bloody fighting in Iberia between France, Spanish guerillas, and Britain from 1807 to 1814 --the first conflict in which the British put cartographers into the field." -MHQ (Spring 2011)

"Lipscombe ... has produced a volume that succinctly narrates the operations that swept the length and breadth of Iberia for over seven years." -Choice Magazine (September 2011)