Kids in the Syndrome Mix of Adhd, LD, Autism Spectrum, Tourette's, Anxiety, and More!: The One-Stop Guide for Parents, Teachers, and Other Professiona (Paperback)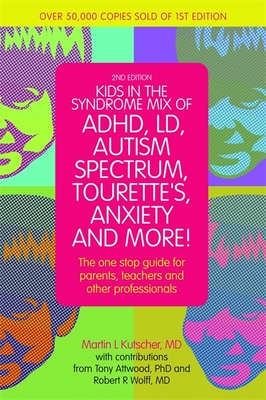 $21.95

Usually Ships in 1-5 Days
Description
---
The completely updated and expanded new edition of this well-established text incorporates DSM-5 changes as well as other new developments. The all-in-one guide covers the whole range of often co-existing neuro-behavioral disorders in children - from attention deficit hyperactivity disorder (ADHD), obsessive-compulsive disorder, and anxiety, to autism spectrum disorders, nonverbal learning disabilities, Tourette's, sensory integration problems, and executive dysfunction.
A completely revised chapter on the autism spectrum by Tony Attwood explains not only new understanding in the field, but the new diagnostic criteria, and the anticipated usage of the term 'Asperger's Syndrome'. Dr. Kutscher provides accessible information on causes, symptoms, interactions with other conditions, and treatments. He presents effective behavioral strategies for responding to children who display traits of these disorders - whether at home, at school, or in other settings - along with case vignettes and practical tips. Finally, a chapter on the role of medications summarizes current knowledge. The author's sympathetic yet upbeat approach and skillful explanations of the inner world of children in the syndrome mix make this an invaluable companion for parents, teachers, professionals, and anyone else who needs fast and to-the-point advice on children with special needs.
About the Author
---
Martin L. Kutscher, M.D. is a pediatric neurologist with more than 25 years' experience of diagnosing neuropsychiatric disorders such as ADHD, learning difficulties, Asperger's Syndrome, and tic disorders and helping families affected by them. His private practice is limited to pediatric behavioral neurology, with offices in Rye Brook, W. Nyack, Middletown, and Wappingers Falls, New York. He was formerly Assistant Clinical Professor of Pediatrics and Neurology at the New York Medical College and he is the author of ADHD - Living with Brakes and Children with Seizures, both published by Jessica Kingsley Publishers. Tony Attwood, Ph.D. is a practicing clinical psychologist specializing in the field of Asperger's Syndrome. Over the last 30 years he has worked with hundreds of individuals with this condition. He is the author of the classic Asperger's Syndrome: A Guide for Parents and Professionals, also published by Jessica Kingsley Publishers. Robert R. Wolff, M.D. has extensive experience with childhood neuro-behavior problems and is currently an Assistant in Neurology at the Harvard Medical School in Boston, Massachusetts.