Ready, Set, Potty!: Toilet Training for Children with Autism and Other Developmental Disorders (Paperback)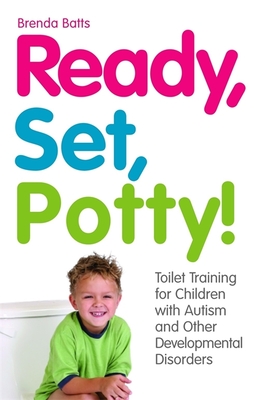 $20.95
Email or call for price
Description
---
Potty training a child with developmental disorders can be a real challenge, and sometimes the extra difficulties make you feel as though you've tried everything, and failed. In this book, Brenda Batts shows how you can overcome problems, big and small, and provides tried and tested methods that really work, tailored to each individual child.
Bursting with ideas on how to see past conventional strategies and adapt toilet training to suit your child, this book outlines methods that have helped even the most despairing of parents and caregivers. Examples of success stories range from two-year-olds to adults aged 20, and show that no matter how difficult it may seem, a little creativity and adaptation can get anyone toilet trained, however many previous attempts have failed. The program itself is supported by plenty of helpful hints and tips, as Brenda covers all you need to get your child past the diaper stage and help them to achieve a big step towards independence. This book is a must for anybody looking to toilet train someone with developmental disorders.
About the Author
---
Brenda Batts is a Behavior Consultant, the mother of two sons, Alex, an 18 year old teen with Autism, and Douglas (JR), a typical, 21 year old college student. She is owner and director of Focus on the Future Training Center, a private school for students with Autism and other related developmental disorders. Brenda holds a BS Degree in Special Education, and a Masters of Education with specialization in Exceptional Student Education. Through her workshops and presentations as a national and international speaker in the field of special needs, coupled with her own personal journey as a parent of a teen with Autism, Brenda is committed to the path of helping special needs students achieve independence. She resides in Plano, Texas.