Planetwise: Dare to Care for God's World (Paperback)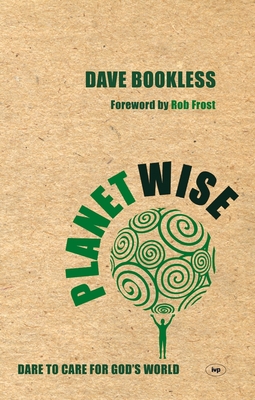 $14.00

Usually Ships in 1-5 Days
Description
---
"I was in the act of throwing away my family's rubbish while holidaying on a beautiful island when I heard God speak. I could easily have missed it, but an inner whisper asked, "How do you think I feel about what you are doing to my world?"
Since the day God challenged him, Dave Bookless has been on a mission: to share with others the compelling biblical case for caring for the planet God made for his glory and his people's enjoyment. This is not another book on green issues to make you feel guilty. The message is that there is hope. God can take your small and insignificant efforts and multiply them in his great plan. Dave takes us right into the heart of his family and shows how living simply, besides honouring God, can be an exciting adventure.
About the Author
---
Dave Bookless (1962-)was born in Calcutta and lived in India until aged 10 when he moved to England with his family. He has worked as a teacher and lecturer in multifaith Bradford, a vicar in multiracial Southall, and as Founding Director of A Rocha UK, part of an international Christian environmental movement (www.arocha.org) running practical projects in 18 countries across six continents. Dave's passion is living and communicating Christian faith in ways that reflect the full biblical Gospel, and speak to contemporary cultures. As well as working as A Rocha UK's Director for Theology, Churches & Sustainable Communities, Dave serves on the Church of England's Mission & Public Affairs Council, and is Moderator of the Environmental Issues Network of Churches Together in Britain & Ireland. Dave speaks on environmental issues and Christian belief mainly in the UK and Europe, and occasionally in Asia, Africa and North America. He writes widely on faith and environment, and on inter-faith relations, including chapters in 'Caring for Creation' (BRF, 2005) and 'When Enough is Enough - A Christian Framework for Sustainability' (IVP 2007). His own book 'Planetwise' (IVP 2008), has been described as "a must-read for all disciples of Jesus committed to God's mission in the world." (Tim Dakin, General CMS), and, "a chance to explore a massive global issue of our generation in both theological and practical ways" (Nicky Gumbel), and has been commended by Jonathon Porritt (Sustainable Development Commission) and the Rt. Revd. John Sentamu (Archbishop of York). His autobiographical second book 'God doesn't do Waste' is due to be published by IVP in 2010.