Academia, Chernobyl, Expeditions and the Greeks: A Research Psychologist on the Move (Paperback)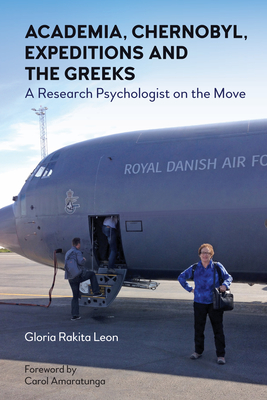 $29.95

Usually Ships in 1-5 Days
Description
---
The memoir Academia, Chernobyl, Expeditions and The Greeks: A Research Psychologist on the Move recounts memorable experiences over the course of the author's career as an academic psychologist engaged in research on stress and coping in extreme environments. Throughout the memoir, the author presents short summaries of her research methods and findings; however, the focus of the book is on her personal experiences - the events, people, and the environment with its natural beauty or devastation that she encountered while conducting this research.
There is an array of events, some quite unique, that are detailed in the book, starting with Academia - challenges of teaching a psychology course at an American army base in Orleans, France; completing a doctoral degree at the University of Maryland while raising a family; academic activities and a 1972 sex discrimination complaint against Rutgers University, one of the first cases in the country following the passage of the Federal Title IX civil rights law; initial research as an assistant professor in the psychology department at the University of Minnesota, including studies of Holocaust survivors and their families, and Vietnam nurses; The Russian Drama - continuing research on stress and coping through four trips to the Soviet Union/Russia during a period when an entire country disappeared and a new one was formed (travel to Chernobyl only six years after the disaster, Magadan in Siberia where the major gulags were/are located) and her sometimes rather unbelievable experiences during that time; Expedition Adventures as an analog for long-duration planetary missions - studies of single and mixed gender national and international civilian and military polar expedition teams to simulate aspects of long-duration lunar and Mars missions, studied on-site in the Canadian Nunavut Territories and during three trips to Danish military stations in Greenland; Greece Disaster Connections - psychosocial training workshops for disaster response and research on the aftermath of disasters through collaboration with colleagues from Athens and Cairo. The author's activities with the NASA Human Research Program over the years also is summarized.
About the Author
---
Gloria Rakita Leon is professor emeritus of psychology at the University of Minnesota. She is internationally known for her research on stress and coping in extreme environments.