Own This!: How Platform Cooperatives Help Workers Build a Democratic Internet (Hardcover)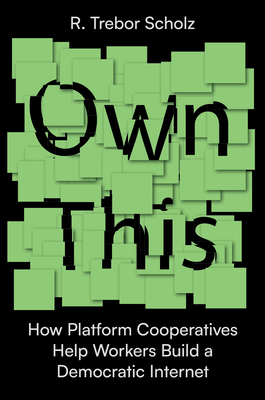 $26.95

Coming Soon - Available for Pre-Order Now
Description
---
The essential introduction to Platform Cooperativism that shows how workers can leverage digital technology to achieve emancipation on their own terms

What if taxi drivers in New York City or rickshaw operators in Bangalore could start a worker-owned and operated alternative to Uber with stable hourly wages? What if domestic workers could double their income by establishing their own platform? Imagine platforms like Twitch, Twitter, and Roblox were owned by their streamers, users, and creators? What if small fishing communities in Mexico or farmers in Kerala had the power to determine what data they collect about their work and how they utilize that data?

Such Platform Cooperatives are not a figment of the utopian imagination, but rather a reality that is transforming industries today. In this book, researcher and activist Trebor Scholz explores how these new forms of business, powered by peer principles, are paving the way for a more equitable gig economy that benefits everyone.
About the Author
---
R. Trebor Scholz is a scholar-activist and founding director of the Platform Cooperativism Consortium (PCC) and the Institute for the Cooperative Digital Economy at The New School in New York City. In 2014, he introduced the concept of "platform cooperativism" as a way of bringing the co-op model into the digital economy. Scholz's articles and ideas have appeared in The Nation, The Chronicle of Higher Education, The Washington Post, Le Monde, and The New York Times, among many other publications.