Capitalism and the Camera: Essays on Photography and Extraction (Paperback)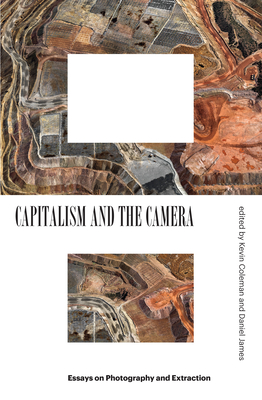 $29.95

Usually Ships in 1-5 Days
Description
---
A provocative exploration of photography's relationship to capitalism, from leading theorists of visual culture.

Photography was invented between the publication of Adam Smith's The Wealth of Nations and Karl Marx and Frederick Engels's The Communist Manifesto. Taking the intertwined development of capitalism and the camera as their starting point, the essays in Capitalism and the Camera investigate the relationship between capitalist accumulation and the photographic image, and ask whether photography might allow us to refuse capitalism's violence--and if so, how?

Drawn together in productive disagreement, the essays in this collection explore the relationship of photography to resource extraction and capital accumulation, from 1492 to the postcolonial; the camera's potential to make visible critical understandings of capitalist production and society, especially economies of class and desire; and propose ways that the camera and the image can be used to build cultural and political counterpublics from which a democratic struggle against capitalism might emerge.

With essays by Ariella Aïsha Azoulay, Siobhan Angus, Kajri Jain, Walter Benn Michaels, T. J. Clark, John Paul Ricco, Blake Stimson, Chris Stolarski, Tong Lam, and Jacob Emery.
About the Author
---
Kevin Coleman is an Associate Professor of History at the University of Toronto, and author of A Camera in the Garden of Eden: The Self-Forging of the Banana Republic. His research has been funded by the Andrew W. Mellon Foundation and the American Council of Learned Societies; the Social Sciences and Humanities Research Council of Canada; and the Fulbright-Hayes. He is currently working on a documentary film, The Photos We Don't Get to See, on photographs from the 1928 massacre of banana workers in Colombia.

Daniel James is the Bernardo Mendel Chair in Latin American History at Indiana University, and the author of Resistance and Integration: Peronism and the Argentine Working Class, 1946-1976 and Doña María's Story: Life, History, Memory, and Political Identity, and co-editor of The Gendered Worlds of Latin American Women Workers: From Household and Factory to the Union Hall and Ballot Box. He is the recipient of a Guggenheim fellowship and before taking up the Mendel Chair at Indiana University, he taught at Yale University and Duke University.
Praise For…
---
"These essays scrutinize the photograph from multiple angles to expose the image-capitalism of our ongoing Imperial Age. A treasure trove of contemporary approaches to critical visual studies."
—Susan Buck-Morss, CUNY Graduate Center

"This is the most original and ground-breaking collection of essays on photography that I have seen in many years, featuring notable critics and scholars at the height of their powers. Do not look for consensus here, but a refreshing take on the enduring contradictions that beset this essential medium of modernity."
—W.J.T. Mitchell, author of What Do Pictures Want?

"Scintillating … [in Capitalism and the Camera] Coleman and James ask us to consider the primary destructive gaze of powerful companies."
—Shanti Escalante-De Mattei, Art in America