Lonely Planet Where to Go When 2 (Hardcover)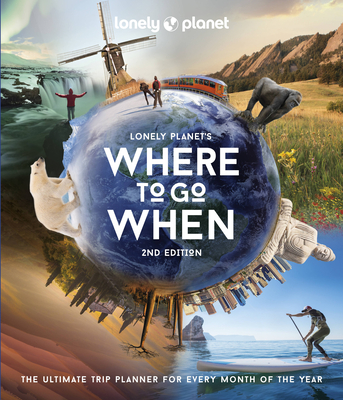 Description
---
The ultimate trip planner for every month of the year: discover the best places to visit throughout the seasons.
Spark your curiosity with decision-making flowcharts to inspire your next unforgettable city break, tropical beach vacation, wildlife encounter and more - all organised by month with amazing weekend escapes, one and two week experiences.
Sip lip-smacking beers and contemplate fine Flemish art in Bruges during February; enhance your wellbeing with a yoga retreat in Australia's Byron Bay throughout June; cycle the USA's Death Valley during the cooler month of November - and you'll soon see just why each destination is so wonderful to be in at that exact moment. With so many inspiring month-by-month holiday recommendations, Where to Go When 2nd Edition offers travellers a lifetime of offbeat adventures and well-known wonders to pursue. 
Inside Where to Go When 2nd Edition
- 25 destinations for each month of the year that cover every corner of the globe
- Handy decision-making flowcharts to help you choose your next exciting getaway based on your travel passions and the activities that appeal to you the most
- Special monthly events, festivals and celebrations calendar
- Intuitive keys and colour coding that suggest ideal trip length: short break, one week, two weeks +
- Amazing experiences for all interests: wildlife & nature, adventure, value, culture, journey, food & drink, personal growth, relaxation
- Top budgeting tips in clear grids and diagrams so you can get the most out of your money
- Super family friendly breaks and experiences plus suggestions on when to leave the kids at home
Whether you're planning a bucket list break full of unique challenges or you're looking to book a spontaneous long-weekend away on a tight budget, this indispensable travel guide will help you find your perfect adventure, whenever and wherever you want to go. Alternatively, gift Where to Go When 2nd Edition to the traveller in your life and set their wanderlust alight.
About Lonely Planet: Lonely Planet, a Red Ventures Company, is the world's number one travel guidebook brand. Providing both inspiring and trustworthy information for every kind of traveller since 1973, Lonely Planet reaches hundreds of millions of travellers each year online and in print and helps them unlock amazing experiences. Visit us at lonelyplanet.com and join our community of followers on Facebook (facebook.com/lonelyplanet), Twitter (@lonelyplanet), Instagram (instagram.com/lonelyplanet), and TikTok (@lonelyplanet).
"Lonely Planet. It's on everyone's bookshelves; it's in every traveller's hands. It's on mobile phones. It's on the Internet. It's everywhere, and it's telling entire generations of people how to travel the world." – Fairfax Media (Australia)