Lonely Planet Experience Paris 1 (Travel Guide) (Paperback)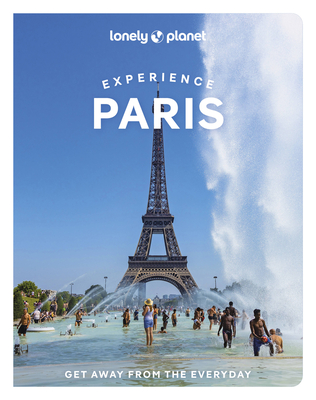 Description
---
Lonely Planet's Experience Paris travel guide reveals exciting new ways to explore this iconic destination with one-of-a-kind adventures at every turn. Listen to jazz at the intimate Bab-llo club, devour fresh cheese from Marche d'Aligre, picnic in an idyllic hidden garden - using our local experts and planning tools to create your own unique trip.
Inside Lonely Planet's ExperienceParis:
- Local experts share their love for the real Paris, offering fresh perspectives into the city's traditions, values and modern trends to make your travel experience even more meaningful
- In the knowtips to help you build on your experiences when visiting well-known sights and landmarks
- Fun insights that will pique your curiosity and take you to the heart of the place - visit iconic cafes frequented by Picasso and Hemingway in St-Germain-des-Pres; discover Paris' oldest buildings in Le Marais, one of the city's trendiest neighbourhoods; slurp sublime oysters around rue Montorgueil
- Experience the perfect day with our local writers who share their ideal itinerary from morning to afternoon and night
- Insider scoop on the best festivals, secret hangouts, hidden locations, tantalising local food scene and photo-worthy views
- Handy seasonal trip planner to guide you on where to go, when to travel and what to pack
- Easy day trip building tools so you can escape to exciting nearby destinations that feel worlds apart
- Practical information on money, getting around, unique and local ways to stay, and responsible travel
- Comprehensive selection of maps throughout and beautiful full-colour photography to inspire you as you plan your unforgettable journey
-Covers Eiffel Tower & Western Paris, Champs-Elysees & Grands Boulevards, The Louvre & Les Halles, Montmartre & Northern Paris, La Goutte d'Or, Le Marais, Menilmontant & Belleville, Bastille & Eastern Paris, The Islands, A Day on the Seine, The Latin Quarter, St-Germain & Les Invalides, Montparnasse & Southern Paris
Lonely Planet's Experience Paris is an essential travel guide for all explorers looking to immerse themselves in the city's culture. Each book within the Experience series contains handy trip building tools so that you can take your pick of the must-see attractions and activities as suggested by our local experts – and create your own dream travel itinerary to get away from the everyday. Unlock even more travel secrets using the QR codes throughout each guide and discover story-worthy travel moments that you'll never forget.
About Lonely Planet:
Lonely Planet, a Red Ventures Company, is the world's number one travel guidebook brand. Providing both inspiring and trustworthy information for every kind of traveller since 1973, Lonely Planet reaches hundreds of millions of travellers each year online and in print and helps them unlock amazing experiences. Visit us at lonelyplanet.com and join our community of followers on Facebook (facebook.com/lonelyplanet), Twitter (@lonelyplanet), Instagram (instagram.com/lonelyplanet), and TikTok (@lonelyplanet).
"...these new Experience guides from Lonely Planet are irresistibly attractive."- The Washington Post Book Club
"Lonely Planet. It's on everyone's bookshelves; it's in every traveller's hands. It's on mobile phones. It's on the Internet. It's everywhere, and it's telling entire generations of people how to travel the world." – Fairfax Media (Australia)