Rewire Your Brain: Self Discipline. the Complete Guide to Overcome Fear, Anxiety, Panic Attacks, Timidity, Concern, and Above All Positiv (Paperback)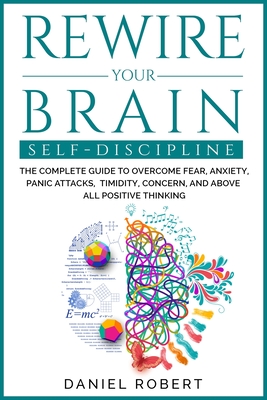 $20.95
Email or call for price
Description
---
Description
Do you want to learn how to rewire your mind to live a happy life?
If yes, then keep reading...
The range of what is categorized as unhappy and unhealthy varies widely. A good general description to refer to is a consistent lack of contentment. What is contentment, you ask? Contentment is a general sensation of ease, comfort, happiness, while also experiencing the lack of prolonged sensations of unhappiness, lack of motivation, and stress. This book is not going to solve all of your problems and turn you into someone who is never unhappy. Humans are still meant to feel stress, sadness, disappointment, anger, but in a healthy, less intense and less prolonged manner. You will find that the main difference between people who are mentally unhappy and unhealthy and those are the opposite, is how the people who are mentally happy and healthy cope with the experience of internal emotions as well as external events.
The scope of every person's life is going to vary, basing itself on several key factors. But no matter what your factors look like, it is highly likely that you are suffering from a general sense of discontentment in your life. Perhaps there is more to life than a job and career goals to you. Perhaps you are constantly tired and are unable to formulate a successful schedule that allows engaging in everything you want to in a day. Maybe your emotions run you, as opposed to you running your own emotions. Your brain may be feeling like it is tangled and flipped upside down, and you have no idea where you can start.
Fortunately for you, there are many people in this situation. Those people are who this book is going to speak directly to; the lost, the confused, the unorganized, the engagers of bad habits, the overly emotional. The human brain is an incredible organ, and unlike other parts of the body that are unable to heal themselves, has proven to be magnificently receptive to change.
In this book we will discuss the following topics:
- Understanding Anxiety and Depression
- Identifying the basic of your Anxiety
- The Root of Anxiety
- Anxiety in the Brain
- Setting your Goals and Getting Started
- Getting back your Life
...And much more
This book is going to show you how you can instill new habits, methods of organization, emotion control, and the management of some mental health disorders that have developed from the constant exposure to consistent intense levels of stress. It is never too late to try to turn your life around, to rewire those neurological pathways of your brain, and to finally live a life that is full of promise, joy, relaxation, and achievement.
Are you excited?
Look no more
Download our book now