Homemade Candies (Paperback)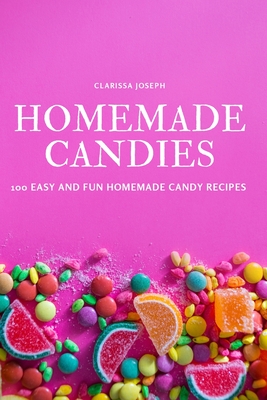 $46.99
Email or call for price
Description
---
Candy has always been a part of life. Sweet treats have been lifting our spirits since ancient times, when the Greeks and Egyptians valued honey as medicine and referred to it as the ambrosia of the gods. Native Americans developed maple syrup and candy, and many of their traditions came to revolve around maple sugaring season.
Candy brings holidays to life. In fact, it's hard to imagine any holiday without candy. Halloween would not be the same without trick-or-treating. No one would search for plastic eggs without the promise of jellybeans and chocolate robin's eggs inside. And kids would sleep in all December long were it not for Advent calendars, peppermint bark, and stocking stuffers. All the rituals, moments, and shared experiences are just better with candy. In many homes, cooking candy is as synonymous with the holidays as the smell of freshly fallen leaves, fires in the hearth, mulled cider, and the scent of evergreen trees inside the home. The aroma of family recipes wafting through the house is like a sensory time machine back to childhood. For younger generations, those sweet scents mean it's a special time. It's time to make the candy
Many people think making candy at home, in your own kitchen, is complicated, difficult, and expensive. It's not. Getting started requires only basic INGREDIENTS, a few pieces of common equipment, and some heat. That's it. With just a little effort, you'll be able to take your holidays to a whole new level. Birthdays, anniversaries, and thank-you gifts will be that much more memorable when you add the personal touch of homemade candy crafted with love. Plus, there is a great deal of joy that comes from creating something delicious with your own hands. Your creations become an expression of you.
Your candy can be soft or hard, chewy or sticky, smooth or chalky, fluffy or dense, or simply dissolve the moment it hits your tongue. It can be sweet or savory or both and include everything from nuts and seeds to fruits, liquors, creams, and spices. You can make soft candy, like caramels and P te de Fruit, hard candy, like toffee and lollipops, or chewy candy, like taffy and gumdrops. Imagine the exciting combinations just waiting to be discovered
Candy making is a great way to spend quality time getting creative (and sticky) with family and friends. It's a lot of fun, it's delicious, and most importantly, it just makes life that much sweeter.