TradicionĀlĀs SpĀŅu Receptes 2022: Recepteslai PĀrsteigtu Savu Ģimeni Un Draugu (Paperback)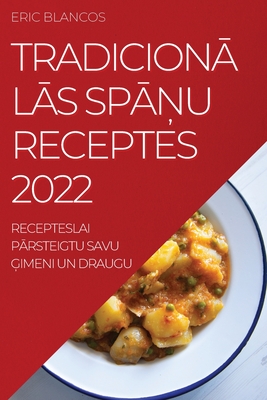 Description
---
Spāņu virtuves ēdienu daudzveidība ir iespaidīga. Katram novadam, katrai mazpilsētai un katrai ģimenei ir savs veids, kā pagatavot garsīgās receptes, ko mātes/tēvi/bērni/mazbērni ir mantojusi paaudzu paaudzēs.
Daudzi zina spāņu gastronomiju ar tās slavenākajiem ēdieniem, piemēram, paelju, tortilju, ripiņu un dazādām tapas. Taču spāņu ēdienā ir arī daudzas citas delikateses, kuras ir vērts izmēģināt, un to ir daudz vairāk, nekā jūs varētu iedomāties.
Pussalas dazādu virtuvju īpatnības varētu aizpildīt vairākas enciklopēdijas, tāpēc sai grāmatai esam atlasījusi lieliskos panākumus, tas ir, klasiskos un būtiskos ēdienus, kas jāiemācās katram pavāram.
Sīs gardās receptes sastāv no viegli atrodamām sastāvdaļām un soli pa solim ir izskaidrota to pagatavosana, lai mazāk pieredzējusi pavāri tās varētu veiksmīgi pabeigt.