Cytotoxicity and Antimicrobial Properties of Photocrosslinkable Liquid Crystals (Paperback)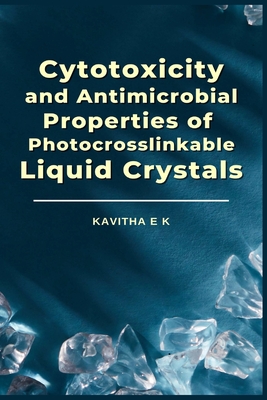 $40.00
Email or call for price
Description
---
The research article titled "Cytotoxicity and Antimicrobial Properties of Photocrosslinkable Liquid Crystals" by Kavitha E K explores the potential applications of photocrosslinkable liquid crystals in biomedicine. The study investigates the cytotoxicity and antimicrobial properties of these materials, which are designed to undergo crosslinking upon exposure to light, resulting in a stable polymeric network.
The use of polymeric materials in biomedical applications has been widely researched, and photocrosslinkable liquid crystals show potential due to their ability to form nanostructured materials with tailored properties. The study examines the biocompatibility of the materials by assessing cell viability, as well as their ability to control drug release.
The molecular structure of the liquid crystals is investigated, with a focus on their thermal and optical properties, as well as their rheological behavior. Chemical modifications and surface functionalization of the liquid crystals are also explored to improve their biocompatibility and biocidal activity.
The study also investigates the interactions of the liquid crystals with biological systems, including cell membranes and microbial growth. The researchers explore the potential of using these materials in the development of biosensors and optical devices due to their electro-optical effects, birefringence, and photoluminescence properties.
Overall, the study demonstrates the potential of photocrosslinkable liquid crystals in a range of biomedical applications, including drug delivery, biosensors, and biopharmaceuticals. The results of in vitro and in vivo studies provide insights into the toxicology and biocompatibility of these materials, which are crucial in their development as safe and effective biomedical materials. The study provides a foundation for further research into the use of liquid crystals in biomedical applications, particularly in the development of stimuli-responsive polymers and hybrid materials.