Rooks in Afghanistan: Volume 1: Sukhoi Su-25 in the Afghanistan War, 1981-1985 (Asia@War) (Paperback)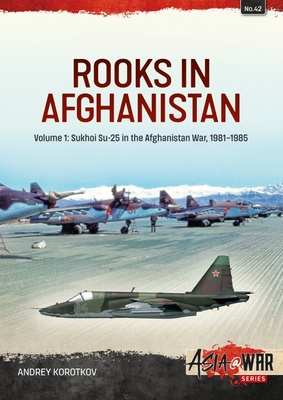 $29.95

Usually Ships in 1-5 Days
Description
---
Rooks in Afghanistan tells the story of the aircraft and crews of units of the Soviet Air Force equipped with the Sukhoi Su-25 attack aircraft. Between 1978 and 1989, a total of 582 single-seat Su-25s were manufactured for the Soviet Air Force - all at Factory 31 at Tbilisi, in the Soviet Republic of Georgia. Although 180 went for export, the Su-25's formed the backbone of the Soviet attack fleet and bore the brunt of combat operations during the Afghan War in the second half of the 1980s.

This book offers an account of the aircraft and personnel who risked their lives, not just in battle but in testing the new aircraft once they came out of the factory. Rooks in Afghanistan describes how the extreme temperatures and grueling conditions of Afghanistan added to the difficulties experienced by the Soviet Air Force. The book includes previously unseen photographs and color artworks along with first-hand accounts and personal testimonies.

Volume 1 covers the pre-service entry-testing, run by a specially-created unit, and then first combat operations from 1981 until 1985. Volume 2 will focus upon the period 1985-1989 and the use of the Su-25 over Afghanistan by frontline units.