Canning and Preserving Food for Beginners: The Complete Guide to store everything in jars ( canned meat, jams, vegetables, jellies, pickles ) - homema (Hardcover)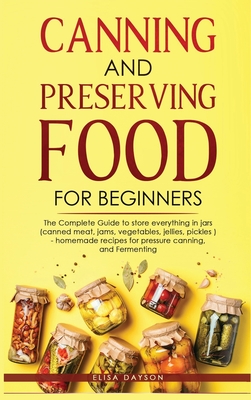 $43.90

Usually Ships in 1-5 Days
Description
---
Do you want to preserve your food with tasty flavor for a very long time?
Are you willing to learn how to preserve your favourite seasonal fruits and veggies to enjoy them later?
Do you want to become an expert in-home canning foods?
If yes, then this book is perfect for you
In this book, Elisa Dayson shows you how to preserve food throughout the year with proven canning techniques. You're going to learn how to master two of the most powerful home canning and preserving techniques to make the most out fresh fruits, veggies, and herbs when they're in season and readily available.
In this guide to becoming a home preserving and canning expert, you will find:
- ✅ Canning basics and equipment to improve your skills and become a canning master
- ✅ Tips for food safety so as not to harm the health of our loved ones
- ✅ Step-by-step recipes for water bath and pressure canning to follow easily
- ✅ Fermenting food basics and techniques for beginners and advanced
- ✅ Tricks and tips for freezing to maintain all the food properties and eat genuine food
- ✅ Easy step-by-step recipes for canning and preserving fruits, vegetables, legumes, meat, seafood, soups, and stews to enjoy seasonal food all year round
- ✅ Easy step-by-step recipes for pickles, jellies, sauces, preserves, condiments, mustards, and jams to amaze your family from the first recipe
- ... And so much more
Filled with deep insights into the practice of home canning and preserving, and jam-packed with expert advice and professional canning tips, this book will quickly become a reference guide to canning and preserving for beginners and experts alike.
Discover How Canning Allows You to Enjoy Your Favorite Fresh Foods, Anytime--Year Round