How to Overcome Anxiety In Relationships: Eliminate Jealousy and Fear Of Abandonment, and Learn to Manage Insecurity and Negative Thinking. Couple The (Paperback)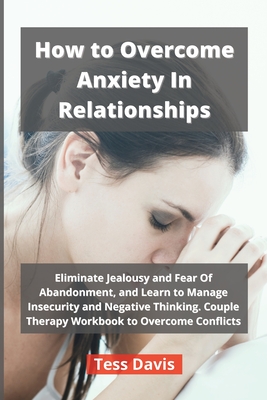 $24.95
Email or call for price
Description
---
Do you want to learn how to eliminate jealousy and fear of abandonment? Free yourself from insecurity in love and negative thinking thanks to this awesome book
Your Customers Will Never Stop Using This Awesome Book
By the time you have finished reading this book, you will know exactly how to cure your fear, pain, and insecurity in love relationships.
Anxiety is a mental and emotional disorder characterized by nervousness, panic, fearfulness, apprehension and worry. An anxious person is worried about many different things and people. Anxiety can affect young people as well as adults. It is one of the most common mental disorders in the United States, affecting more than 40 million people.
Anxiety in a relationship can be seen as one of the most excruciating and unbearable experiences in life. Fear of abandonment, codependency, jealousy and insecurity are the main reasons for anxiety in relationships. If one or both partners are hypersensitive, insecure, and do not have healthy boundaries, they would become prey to constant anxiety, destroy their relationship and get separated.
The following are the signs and symptoms of anxiety in a relationship:
Feeling that someone, especially the partner, may abandon you
Difficulty in trusting that the partner will be there for you
Dissatisfaction and sense of something is lacking in the relationship
Feeling in constant "survival mode" with the partner
Needing constant reassurance, attention and comfort from the partner
Fearful of disapproval and rejection
Feeling always insecure in the relationship
To cure your anxiety, you need to know how to reprogram your mind, and this book will help you to do that. Anxiety in relationship can be cured by the end of this book.
Buy It NOW and Let Your Customers Get Addicted to This Amazing Book