Air Fryer Low Carb Cookbook: How to Eat Healthy Every Day with Easy and Delicious Recipes (Paperback)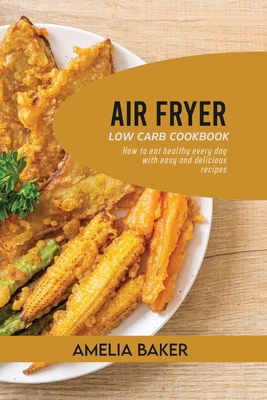 $19.99

Usually Ships in 1-5 Days
Description
---
If you are looking for a guide that will show you low carb recipes for your air fryer, this is the right book for you Then keep reading....
Air fryers help you prepare your fried meals in a healthier and faster way. This is because they can use less oil than conventional cooking using a combination of hot air and convection currents that circulate around the food, creating a crispy and enjoyable texture.
In this manual, you will find healthy and delicious recipes such as:
- Breakfast Egg Rolls
- Super Crispy Bacon
- French Toast
- Cheesy Cauliflower Risotto
- Chinese Spring Rolls
- Carne Asada Tacos
- Kale and Beef Omelet
- Mac and Cheese Balls
- Cream Crepes
- Chocolate Cheesecake
- And Many Others
Cooking in an air fryer is healthier than using oil because of all of the negative effects on your health, like heart disease, obesity, and cancer.
So, what are you waiting for? Click the "BUY NOW" button and start cooking immediately