Air Fryer Cookbook for Busy People: Easy and Tasty Recipes to Make Quickly at Your Home (Hardcover)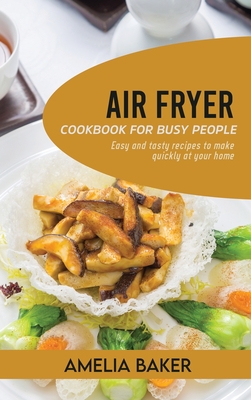 $29.99

Usually Ships in 1-5 Days
Description
---
Are you looking for a guide that will teach you how to use your air fryer and show you many delicious recipes to prepare with it?
If yes, then keep reading
Air fryers help you prepare your fried meals in a healthier and faster way. This is because they can use less oil than conventional cooking using a combination of hot air and convection currents that circulate around the food, creating a crispy and enjoyable texture. As a result, you will reduce the fat content in your meals while not sacrificing your needs of having delicious food anytime you want.
This amazing cookbook contains healthy and delicious recipes such as:
- Pizza Dogs
- Chicken Quesadillas
- Mushroom and Rice Bake
- Beef Egg Rolls
- Coated Avocado Tacos
- Lime Cheesecake
- And Many Others
Cooking in an air fryer is healthier than using oil because of all of the negative effects on your health, like heart disease, obesity, and cancer.
So, what are you waiting for? Click the "BUY NOW" button and start cooking today