H.R. Giger: Debbie Harry Metamorphosis: Creating the Visual Concept for KooKoo (Hardcover)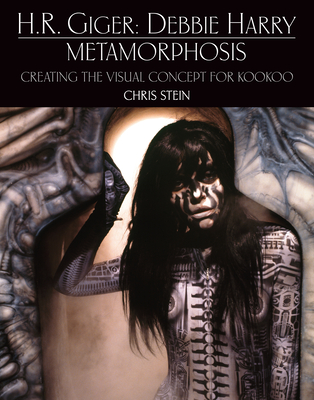 $75.00

Usually Ships in 1-5 Days
Description
---
A beautiful coffee table art book chronicling the extraordinary collaboration between Debbie Harry and H.R. Giger for Harry's 1981 solo album KooKoo.

When the visual artist H.R. Giger, best known for his biomechanical creature and set design for seminal 1979 sci-fi-horror film Alien, encountered Debbie Harry, the punk icon and lead singer of globally successful new wave band Blondie, the results were sublime. The artwork for Harry's 1981 debut solo KooKoo album cover was deemed so frightening it was originally banned on the London Underground. The fantastical videos for two of the tracks on the album, 'Backfired' and 'Now I Know you Know,' featured Giger himself piercing an Egyptian sarcophagus and a newly brunette Harry reimagined as a xenomorphic Giger creature.

With photographs and words by Chris Stein, Harry's long-term collaborator, artefacts and sketches from the Giger archive, and an introduction by Debbie Harry, this is an essential behind-the-scenes insight into the processes of an incredible creative partnership.
About the Author
---
Chris Stein is the co-founder, songwriter and guitarist of the iconic punk band and Rock & Roll Hall of Fame inductee Blondie, whose recent studio album, 'Pollinator', was named one of Rolling Stone's 20 Best Pop Albums of 2017. Beyond his era-defining music with Blondie, Stein has collaborated with a host of artists over the years, including Andy Warhol, Jean-Michel Basquiat, William Burroughs, Devo, Glenn O'Brien, and Shepard Fairey. Chris' photographic work has been featured in the press and in galleries around the world, most prominently in a 2017 exhibition at London's prestigious Somerset House that drew a reported 60,000 visitors. His first book of photography and essays, 2016's Negative: Me, Blondie, and the Advent of Punk (Rizzoli) was hailed by Good Reads as "a must-have celebration of the new-wave and punk scene, whose influence on music and fashion is just as relevant today as it was four decades ago." With is second book Point of View: Me, New York City and the Punk Scene (Rizzoli), Stein expands upon that highly praised collection, which offered a unique, behind-the-scenes look at Blondie and its milieu. This time Stein recalls in photographs and words the rough-edged New York City streets he came of age in as an artist in the late sixties and seventies. Stein documents, most often in evocative black and white, an urban landscape filled with detritus yet teeming with life, from the avenues of midtown to the boardwalks of Coney Island. He offers a local's view of the far-from-gentrified East Village neighborhood where he lived, and where the punk movement emerged. And he shares previously unpublished images of such iconic figures of the era as Debbie Harry, his musical partner in Blondie; Andy Warhol; Iggy Pop; David Bowie; and the Ramones. The New York Times notes "POINT OF VIEW: Me, New York City, and the Punk Scene is a fascinating document, not only of the punk scene of the early and middle 1970s but more generally of New York City in its years of chaos, decay and creative energy."


The name Debbie Harry evokes many images: seminal rock-n-roll figure, complex songstress, incandescent front woman, actor and fashion icon. Debbie's chart-topping success, fearless spirit and rare longevity - including more than 50 million albums sold worldwide and acclaimed solo projects - have cemented her as a vibrant global force and a shaper of pop culture.

With Blondie, undeniably one of the most trailblazing and influential bands of our time, Debbie and co-founder Chris Stein brought the worlds of rock, punk, disco and Reggae together with "Heart of Glass" and "Call Me" and broke ground by combining hip-hop and pop on "Rapture." Their decades-long successes led to an induction into the Rock 'N' Roll Hall of Fame for the band in 2006. As a solo artist, Nile Rodgers & Bernard Edwards co-produced her first release Koo Koo in 1981 and she continued to defy expectations with such genre-busting efforts as "French Kissing in the U.S.A.," "Rush Rush," "Rain," and "The Jam Was Moving." Debbie has also had a long running collaboration with the critically acclaimed American jazz group, The Jazz Passengers, stalwarts of New York's free-jazz scene. Her spectacular voice drips with a sophisticated elegance rarely heard in pop music as she continues to infuse her work with an exquisite artistic sensibility.

Outside of music, Debbie has also engaged in a successful acting career with over 30 film and television roles to her credit (including Videodrome, Hairspray, and Heavy to name a few). She has become and still remains a true national treasure, one whose influence continues to impact the worlds of music, fashion and art.

More recently, in October of 2019, Debbie became a best selling author with the release of her memoir, FACE IT. In an arresting mix of visceral storytelling and stunning visuals including never-before-seen photographs, bespoke illustrations and fan art installations, FACE IT upended the standard musical memoir while delivering a truly intimate portrait of an iconoclast. With all the grit, grime and glory recounted in intimate detail, FACE IT recreated the downtown scene of 1970s New York City, where Blondie played alongside The Ramones, Television, Talking Heads, Iggy Pop and David Bowie. Following her path from glorious commercial success to heroin addiction, the near-death of partner Chris Stein, a heart-wrenching bankruptcy and Blondie's break up as a band, to her multifaceted acting career, a stunning solo career and the triumphant return of the band, FACE IT is a cinematic story of a woman who made her own path, and set the standard for a generation of artists who followed in her footsteps.

From an irreverent Lower East Side punk goddess to a bona fide international ambassador of New York cool, Debbie Harry will forever be synonymous with that punk spirit that lives somewhere in all of us.