Crochet Patterns: The Ultimate Beginner's Guide To learn Crochet and create Any Design You Want with Easy-to-Follow Illustration Pattern (Paperback)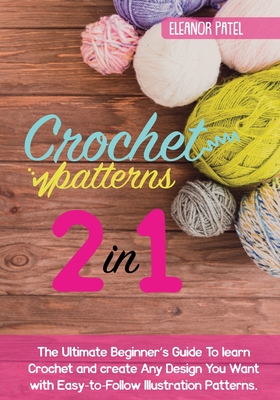 $29.99

Usually Ships in 1-5 Days
Description
---
Do your customers think it'll be difficult to learn how to crochet from scratch?Do you want to make sure that by buying just one book they will come back to buy again and again?Then, You Need This Book in Your Library and... Your Customers Will Never Stop to Use and Gift It
? - WHY THIS BOOK CAN HELP YOUR CUSTOMERS
Crochet patterns is a comprehensive 2 in 1 bundle book for them because we've included step-by-step instructions with clear picture examples so they can learn the fundamentals like crochet techniques, how to read charts, and where to get the right supplies.
Crocheting is a timeless craft, as seen by the popularity of contemporary, complex methods such as amigurumi & Tunisian crochet. So, if they've always wanted to join the crafting revolution, this step-by-step instruction is for them
This book is the go-to starting point for understanding how to crochet, with new designs and even more skills described step by step.
In this book they will learn the following in details:
The basic of crocheting and its history
The tools required for beginners
Tricks, tips, and techniques to learn the art
Home d cor items and some gifts for the loved ones
What to wear in crochet
5 basic projects of crocheting for the beginners
Crochet types and techniques
Products made from crochets
Easy projects
And much, much more...
Crocheting for newbies does not have to be difficult if they follow the appropriate beginning crochet instruction. Get this excellent crochet instruction book now and your customers will be crocheting stunning designs in no time
Click the "BUY NOW" Button, Buy THOUSANDS of Copies and Let Your Customers Rob Your Library