Tax Strategies & Credit Repair Tax Strategies & Credit Repair Secrets For Business Owners: 3 BOOKS IN 1: An Entrepreneur Guide to Learn How to Navigat (Paperback)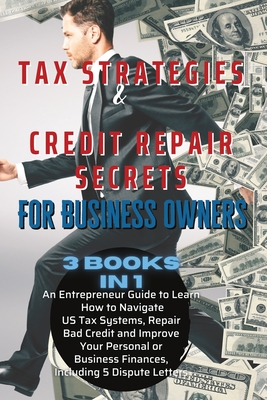 $27.95
Email or call for price
Description
---
Do You Want to Blast Your Score Trough the Roof, Repair Your Bad Credit and Improve Your Personal and Business Finances?
Are You Looking for a Guide to Learn How to Navigate US Tax Systems and Save Big on Your Taxes?
Are You Tired of Being Rejected by The Banks and Other Financial Institutions Because You Have Bad Credit?
Let's take a look on what you will find in this book:
- THE RIGHT WAY TO CHECK YOUR CREDIT REPORT - and the Single Factor No One Has Ever Taught to You
- HOW TO CONVERT BAD CREDIT INTO GOOD CREDIT - Take Control of Your Credit or it Will Control You for the Rest of Your Life
- MISTAKES TO AVOID WHILE REPAIRING CREDIT - Avoid These Mistake or You Will Go Back to the Starting Point
- 7 SECRETS STRATEGIES TO RAISE YOUR SCORE - that the Bank Doesn't Want You to Know
- Advice to See Success with 609 - Are you Ready?
- How to Proceed With The Letters - Telephone? Emails? Online?
- The 5 Templates You Need - No, You Can't Find It on Google
- What is Tax Code and Tax Basics
- Tax Preparation - Follow These Simple Rules
- LLC and Sole Proprietorship: Business Taxes, Tax Deductions and Payroll Taxes
-Dealing with the IRS
- Common Mistakes and F.A.Q
If You Want Something You've Never Had You Must Be Willing to Do Something You've Never Done
The Choice is in Your Hands Now..
Do You Want to Stay in the Same Conditions You Are in Now?
Or
Do You Want to Take Your Personal and Business Finances Back on Track ?
Buy it now and let your customers get addicted to this amazing book