Dark Psychology And Manipulation: Learn the best manipulative techniques, use persuasion and emotional intelligence to understand people fast and easi (Hardcover)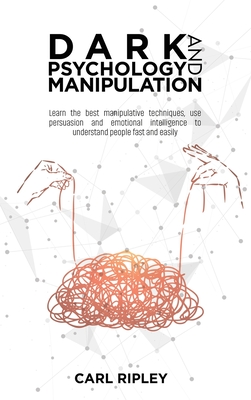 $33.97
Email or call for price
Description
---
★ 55% OFF for Bookstores NOW at $ 15.29 instead of $ 33.97 LAST DAYS ★
You may have heard of the term "Dark Psychology", but what is it really?
The dark side of psychology is what might be called "evil" or "malicious" psychology, the side that focuses on how to make people suffer and create destructive effects. It's used by unethical organizations for nefarious purposes and by criminals as a way to justify their crimes.
Dark psychologies are based on the same principles as public health, although they might use different techniques. They may be medically trained with skills not available in other schools of mental health care. They are practiced in the same way as other schools of mental health care, but with a different focus.
Some of these people are actually trained to do these things and are not necessarily mentally ill or evil; it's just that they're not trained to tell you what you want to hear for the purpose of making you feel better. Sometimes, they'll be highly trained and know beyond any doubt how destructive their own actions can be, and they might even hate what they're doing and wish they didn't have to do it. Sometimes, the dark side of psychology is practiced by someone who hasn't been trained; he's just a sociopath who has developed an ability to tap into the dark side of the human soul.
This book covers:
- The Fundamentals of Dark Psychology
- Methods of Dark Psychology
- Best Techniques of Dark Psychology
- Techniques of Mental Manipulation
- Dark Seduction
- The Dark Triad
- How to Tell If You Are Emotionally Manipulated
- Manipulation and Conversational Hypnosis
- Characteristics of Manipulative People
- Mind Control Techniques
And much more
Dark psychology is also practiced by people with a different motivation, such as those who are willing to do these things in order to gain money or power. Or they might be doing it because they enjoy punishing others or hurting people.
★ 55% OFF for Bookstores NOW at $ 15.29 instead of $ 33.97 LAST DAYS ★
You will Never Stop Using this Awesome Book
Buy it NOW and get addicted to this amazing book