How To Analyze People: The complete guide to read in 5 minutes Instantly read body language. (Hardcover)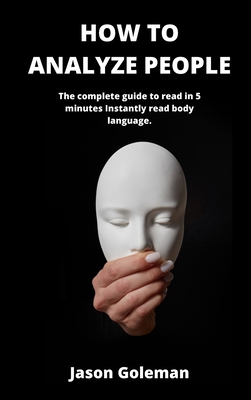 $29.97
Email or call for price
Description
---
55% OFF FOR BOOKSTORES NOW
Have you always been interested in learning how some people are able to walk into a room and seem to command the attention of everyone without saying a word?
Your costumers are looking for this book
With this helpful, interesting and informative guide, readers will learn all about the psychology of reading people and the specifics of psychoanalysis as a reflective and healing tool.
Also included in within the pages of this life-enhancing book are subjects like:
- How to spot a fake smile from a genuine one
- Different types of physical behaviors that make up a person's body language and what emotions they convey
- How to see past the psychological masks people wear to protect themselves and get a more accurate reading on their true personality
- Dark Psychology techniques in practice across the globe that work well with psychoanalysis and other people reading skills in order to advance your personal perception abilities
- Tips and tricks on how to become better at reading and understanding the people you interact with on a daily basis regardless of how well you know them or how long the interaction lasts
These are just some of the topics covered in the chapters of How To Analyze People: How to master the art of analyzing people on sight: the ultimate guide to read anyone like a magician in 5 minutes with dark psychology. Instantly read body language In addition to the basics and fundamentals of people reading, the guide also introduces a number of exercises and practical advice for readers to try in their own lives.
Whether you are wanting to improve communications at the office or build stronger connections with the people you love, knowing how to actively observe, understand and interpret the thoughts and emotions of others is a skill set that every person should strive to master not only for their own sake and benefit, but for the benefit and enhancement of people around them
Some of the skills covered in this guide can be put to use when reaching a variety of goals like:
- Hiring more adept and positive employees with the ability to determine personality types by sight and behavior (even on the first meeting)
- Making friends in a new community where you do not have any existing ties by using your strong communication and social skills
- Becoming more self-aware to help yourself and others with overcome psychological burdens or complications that may be affecting their productivity
Become the best version of yourself you can be and make the most out of every conversation you have by mastering the art of reading people by sight
Buy NOW and your costumers will have all they needs.