Adhd Effects In Relationships: All The Skills To Understand and Rebuild Your Relationship (Hardcover)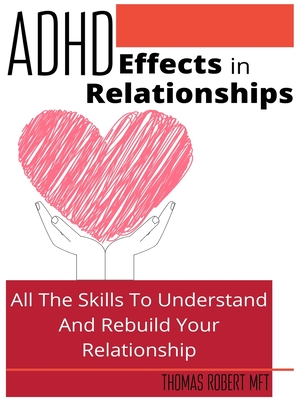 $37.95

Usually Ships in 1-5 Days
Description
---
A relationship breakup can often cause adults with ADHD to feel depression, anger, low self-esteem, and other symptoms of a mental health disorder. At its worst, these emotional problems can lead to substance abuse or self-harm.
The best way for an adult with ADHD to cope with break up is by telling others what they are experiencing. Self-reflecting awareness on the part of the person involved will help them realize that their feelings are valid and not a personal failure. This awareness will help them move past their feelings on to find peace in their lives again. Perhaps one day they'll be able to say goodbye once more without breaking down into tears in between each letter they write the ex-partner whom they miss dearly.
This book contains the following topics:
What Is ADHD
What Is It Like To Be In A Relationship With Someone Who Has ADHD?
What Relationship Problems Might An Adult With ADHD Have?
What Is It Like Dating Someone Who Has ADHD When You Do Not Have ADHD?
What Is The Best Way To Treat ADHD And Relationships?
What Are The Benefits Of Being In A Relationship With Someone Who Has ADHD?
How Does ADHD Affect Relationships?
SUPPORT FOR PARENTS OF PARENTS OF ADHD PERSON: Effects Of ADHD In A Family
Tips For Increasing Understanding In Your Relationship With A Person Having ADHD
How The Partner With ADHD Often Feels
And many more
Another helpful step to take after a relationship break up is beginning to appreciate the positive aspects of having ADHD. Yes, it will be difficult at first. But it may be easier for them to see how they challenge their relationships in ways that are unique and special. It may not seem like it at first, but they will become more useful and productive as a result of their ADHD characteristics.
Finding support through mental health counseling is another way for adults with ADHD who have been dealing with relationship problems can help cope with the difficulties they encounter when ending relationships. An ADHD therapist will help a person learn more about their ADHD and how to handle relationship problems. This also helps the person realize that they have support from others who know how it feels to have mental disorders and experience relationship problems.