Mediterranean Diet - Breakfast Cookbook: Simple and delicious 50 breakfast recipes to keeps you healthy the whole day (Hardcover)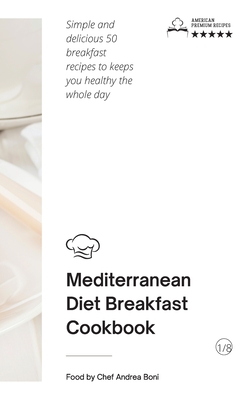 $36.95
Email or call for price
Description
---
⭐ 55% discount for bookstores NOW for $ 16,62 instead of $ 36,95 ⭐
Do you want to live a healthy and fresh whole day? "Mediterranean diet breakfast cookbook" is the best way to start your morning .
This is the first book of a series of 8 books
Your customers cannot lose this precious cookbook, which they will no longer be able to do without.
This cookbook has a collection of 50 breakfast recipes. No doubt, breakfast is the main meal of the day. If you did not eat breakfast, you would stay inactive the whole day. These breakfast recipes will satisfy your hunger and fill your belly till morning.
From oatmeal to Frittata, my cookbook covered all breakfast recipes. These recipes are mainly for those who have busy mornings because all recipes are quick and easy. All recipes are affordable and contain easy-to-find and straightforward ingredients. In addition, you will get an introduction to the Mediterranean diet - what is the Mediterranean diet, and how can we use it?
This cookbook contains features:
Smoothie and breakfast recipes - you can drink smoothies at breakfast after exercise. You can eat these recipes at brunch.
Each recipe has nutritional Information - You can eat these recipes according to calories - how many calories you want in a day.
Simple ingredients - No doubt, all ingredients are simple and easy to find. You don't need to go to more than two shops for these ingredients.
You will get an introduction to each recipe. All recipes are healthy and tasty.
So, what are you waiting for? Pickup my cookbook and start to follow the Mediterranean diet
Buy it NOW and let your customers truly satisfied, stay healthy and addicted to this cookbook