The Mediterranean Diet Cookbook: A Delicious Collection Easy, Quick and Affordable Recipes to Help Reset Your Metabolism and Improve Your Eating Habit (Hardcover)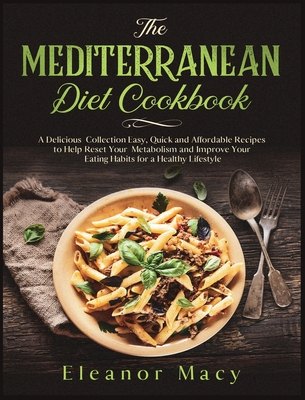 $34.99
Email or call for price
Description
---
Being diagnosed with lifelong medical conditions such as cardiovascular problems or diabetes, etc that could have been prevented by a healthy diet?
Compromising on your quality of life due to obesity or other weight-related issues?
Seeing your family and loved ones fall into the abyss of health complications caused by unhealthy diets?
The Mediterranean diet follows a lifestyle rather than being a set of restrictive diet instructions. The basis of the diet is from research that studied the people living in countries near the Mediterranean Sea who live longer and with a lower inclination to suffer from diseases like cancer and heart disease. Hence, the benefits of following the Mediterranean Diet can include weight loss, improve brain and heart health, cancer prevention as well as control and prevention of diabetes.
If you are considering making the switch to the Mediterranean diet but aren't sure how to go about it, the Mediterranean Diet Cookbook for Beginners will make the transition a smooth and enjoyable one for you.
Click "Buy now", and let your journey to rejuvenation and longevity begin